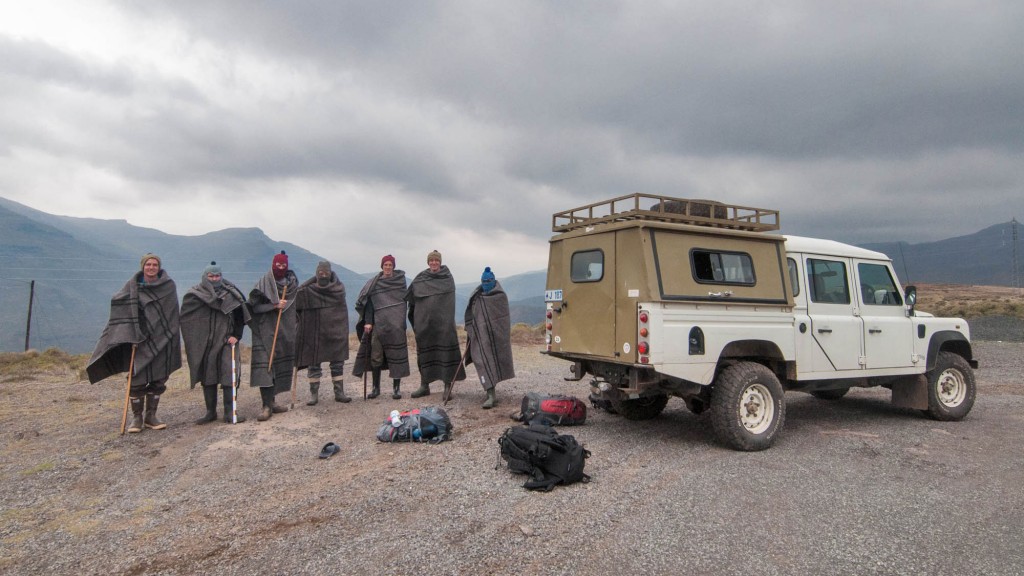 13 December 2014 // Films News
The Shepherds team are off
[contentblock id=10 img=gcb.png]
The 'Extreme TIMO Team' reaching the Shepherds of Lesotho has finally begun! The international team is made up of five energetic and adventurous young men; Caleb, Spencer, Tobias, Mark and Chris, with Sam as their team leader. The team has built their shepherding huts by hand with materials from the land – hard, hard labour, even for five fit guys! They have made their rock shelves which they will use as beds in their huts and have constant companions of bed bugs, mice, rats and ground squirrels! The team is perfecting cooking their two simple meals of pap a day over an open fire, but enjoy their luxury items of tea and coffee. The shepherds are excited and pleased with the company of these "white men" and have heard about missionaries going to their villages but never living amongst them.
Photos from Mark Eekhoff
Mark Eekhoff is one of the Shepherds TIMO team members. He sent these photos, giving a real insight into what it's going to be like living amongst the Lesotho Shepherds.
One of the most difficult tasks facing us on our first weeks is learning Sesotho. To help us learn the language as quickly as possible, we have all been assigned to a native-speaking language helper. Here is a photo of my helper, Jabulani, above the townships of Clarens. To help make the learning become second-nature, we often go for walks or play Ping-Pong during our lessons.
One Sunday tradition that we have been glad to continue with our leadership team family, the Williamsons, is afternoon walks. Here we walked to an overlook of the city of Clarens, our home base and where we will spend our time down out of the mountains. We plan to be here for a week at a time, after every 3 week stay in Lesotho.
Even though our daily life in Lesotho will involve walking significant distances over mountainous terrain, it is interesting that our team chose to hike on our only day off thus far. It looks like we are a good fit for the job! Here I am with Spencer, Caleb, and Tobias. Mount Horeb, one of the tallest peaks in Southern Africa, Mount Horeb, is behind us. Unfavorable weather conditions and slippery footings forced us to turn back before making it to the summit. Unfortunately Chris was unable to join us due to back pain.
Due to the tough hikes from one place to another, and from the vehicle to our homes, we have made a huge effort to reduce the amount of equipment we take to the mountains. As time continues, we hope to be able to reduce our necessities even more. The life of a shepherd is a simple one, and we hope to assimilate as much as possible. After taking a blanket, boots, staff, and sleeping bag, there is not much more space for anything else.
Here is my view of the scenery on drives between our mountain homes and our team home in Clarens, SA. The back of the team Land Rover provides and bumpy, but relatively comfortable ride from point a to point b.
On our way to the ministry location, we pull off at the side of the road to "gear up and get our shepherd on". Pictured here in order is the team: Mark, Chris, Spencer, Sam, Tobias, Caleb, and language helper John. On the return we don't all take the time to westernize ourselves again, which makes for some funny looks at the border!
The staple, and only content, of our diet is pap. It's a maize meal paste. Here is Tobias enjoying a spoonful. Meals are only twice a day, but shepherds sometimes eat leftovers throughout the day, which is why every shepherd carries a spoon in case a fellow herdsman uncovers their batch.
During the construction of the team motebong at the fanana cattle outpost, we have had to make use of existing run-down motebongs for shelter in the mean time. There are 7 huts in the outpost, and we have just completed the 8th. While team members Chris, Spencer, and Caleb settle in the new hut – their home for 2 years – Tobias and I are making use of one we repaired until he and I move to the Mahalasela outpost in December. Once there, we will begin construction of our new motebong.
Our fearless team leader, Sam Williamson, takes water from the spring below to one of the team huts above. That's what I call servant leadership!
Over the course of 1 day, shepherds eat 2 meals. One at about 6 am and the other at 6 pm. These 2 meals are usually the exact same, and sometimes one is the leftovers of the other. The meal is called "pap" and is a starchy paste made from maize meal. While there is no shortage in quantity, there is absolutely no variety. Team members have taken different levels of liking to the food, but I have been blessed to like it a lot! Here Caleb is, learning to prepare pap over the fire as the shepherds do.
After just 1 week of work, my hands have converted from those of a westerner to those of a Basotho badisana (shepherd). You can see the toll that moving rocks, cutting thatch grass, and digging beds has taken on them. Every time you shake a shepherd's hands, you can feel the rough callouses. This might be the first stage of our physical transformation into shepherds.
While most precipitation comes in the form of a daily 15 minute shower, the rainy season does provide a few multiple-day rains. That amount of precipitation in combination with an abandoned, half-repaired hut meant for a few wet nights. Here is a trench we dug to remove some of the water accumulating inside our hut. With new drips appearing on a regular basis, we needed to be rather acrobatic in our sleeping positions to dodge them. Along with the heavy rains and flooding, the bridge spanning the nearest road washed out, was rebuilt 2 days later, and washed out again 5 days following the repair.
As the weather warms up, shepherds continue to move higher into the mountains. The Fanana outpost will eventually host 12-15 shepherds, but for now only one calls the post home. His name is Melofitsani, and he has been an invaluable help in getting us acquainted with the life of a shepherd. He also helped greatly in the construction of the team hut. He shepherds his mother's flock of about 200 sheep – a very large number for just 1 shepherd.
While storms often mean tough conditions for both shepherds and sheep, the water provides life-giving sustenance to the land and people. It also provides for amazing scenery. Here are just 2 from the dozens of waterfalls which can be seen from the Fanana cattle outpost.
On out last day of our first stay in Lesotho, Spencer and I made the hike up to a double-waterfall across the valley. It meant an early start and a tough hike, but it was more than worth it. After rains, the valley is surrounded in dozens of falls, but this one in particular caught our eye with it's split.
Video from Sam Williamson
Team leader, Sam Williamson asks the team members what their hopes and fears are, as they start their work amongst the Shepherds.