[contentblock id=48 img=gcb.png]
What does the ministry of Derek & Narina Harborne, serving in Mbarara, Uganda look like? Here they share a brief snapshot of their day…
7:45am
Derek: Emergency Department ward round with surgeons. An 8-year-old child has now had neurosurgery for his head injuries, but yet again the hospital has run out of oxygen. Help an intern with difficult placement of intravenous line.
9:00am
Derek: Ward round with physicians. Half the Emergency patients have HIV. One patient dies during ward round, followed by an opportunity to advise and pray with attendants of sick patient after deliberate overdose of insecticide poison.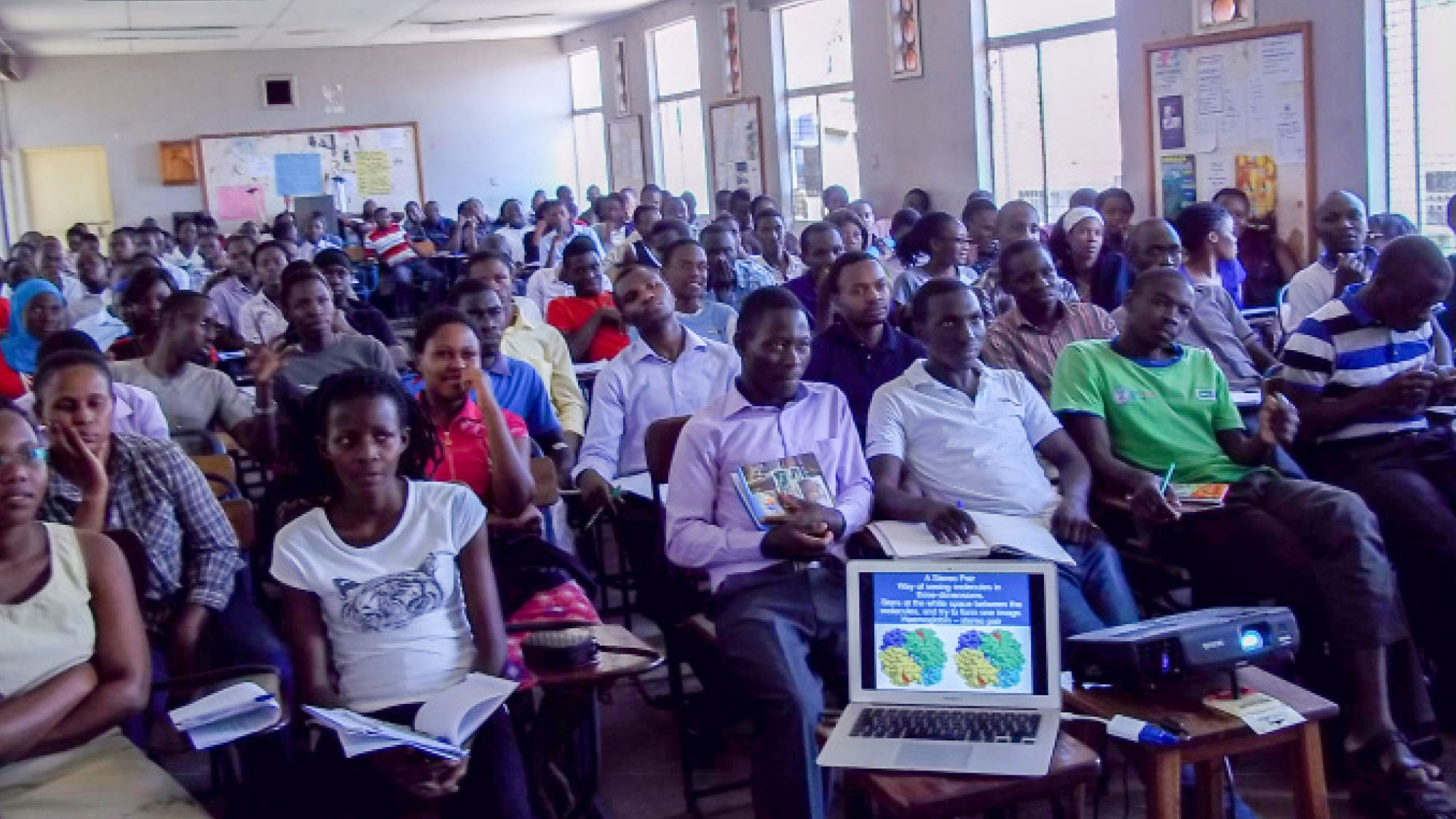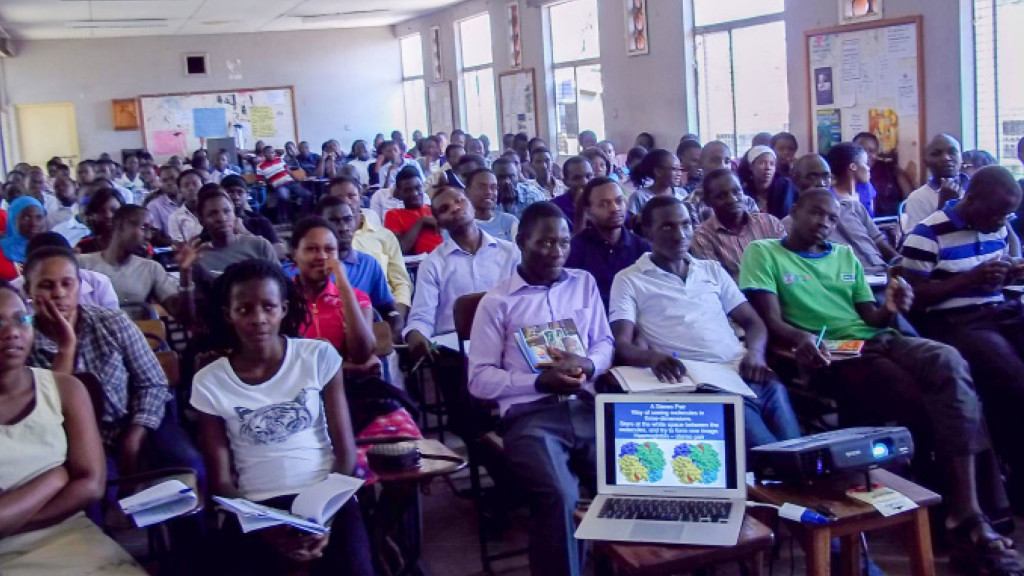 Nerina's classroom with 130 first-year students!
10:00am
Derek: Teaching ward round with nine third-year medical students. Rewarding medical, cultural and ethical discussion. Two of the group I already know well through St. Luke's.
10:00am – 12:00pm
Nerina: Molecular Biology lecture to 130 Medicine, Pharmacy and Pharmaceutical Science first-year students. Use videos to try to help them understand biological processes. Pleased that many seem engaged and ask good questions, but worry about the students at the back – can they hear and see?
12:00pm
Derek: Meeting with Dr. Ttendo (Senior Anaesthetist and my Ugandan boss) and Dr. Barigye, Hospital Director. Discuss detailed plans to pipe oxygen to Emergency Department from new oxygen concentrator plant using atmospheric air. After three years on staff, Ugandan colleagues no longer see me as a Western donor, supplier of hand-outs.
2:30pm
Derek: Greet colleagues in Physiotherapy department on way home, including our AIM colleague Zillah Whitehouse. Late lunch. E-mails. Teaching preparation.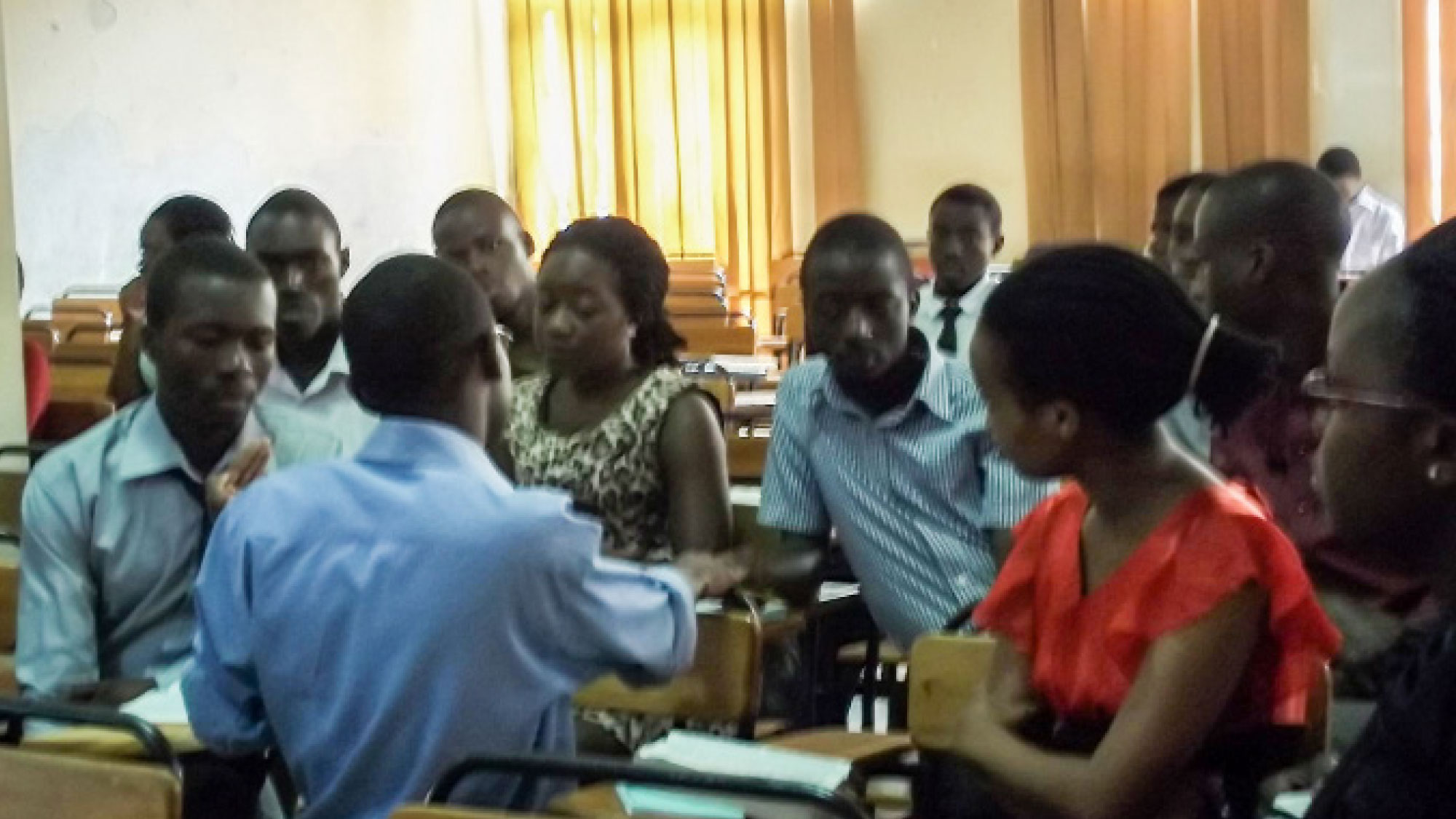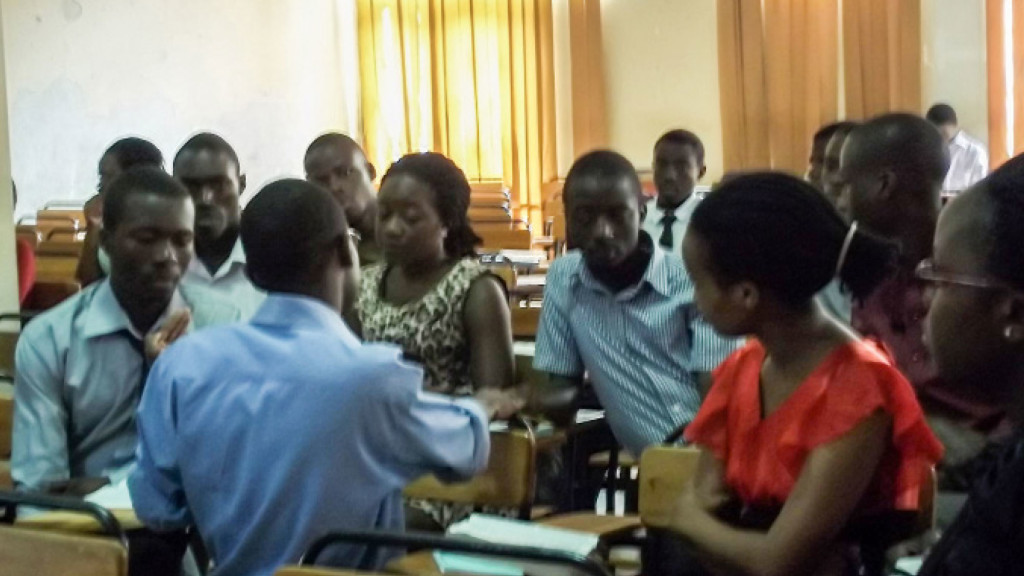 Bible study at St. Lukes.
2:00–5:00pm
Nerina: Computer lesson with the four girls I'm teaching. Open Facebook accounts for those who want them. Talk about internet safety, and good and bad uses of time online.
6:00pm
Derek & Nerina: Attend Vineyard, the St. Luke's postgraduate fellowship. Bible study on Acts leads to a discussion on the importance of cross-cultural work in allowing the gospel to spread.
We hope through all the activities of the day that we are able to demonstrate Christ, through words and actions, and bring more people into a deeper relationship with him.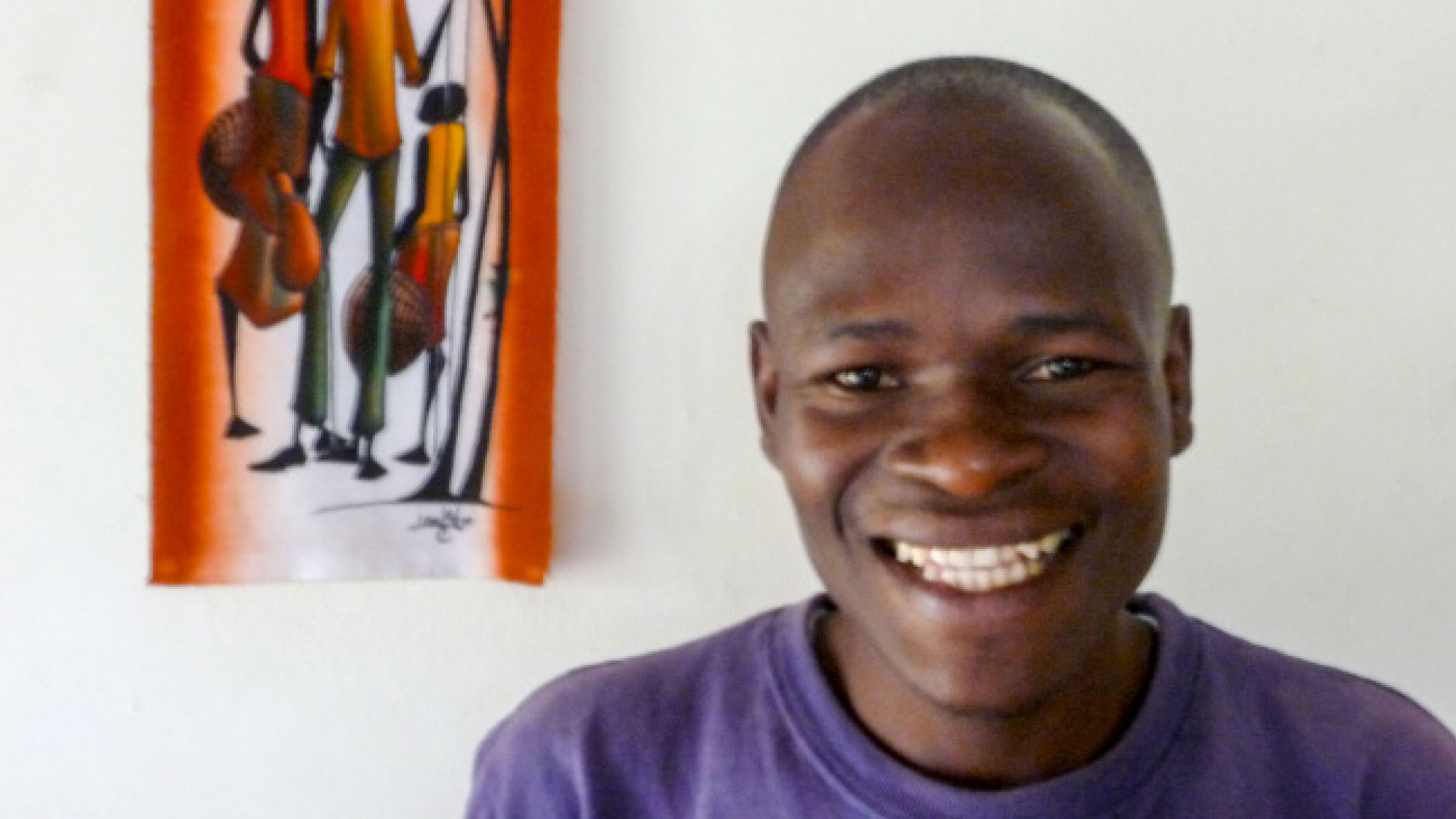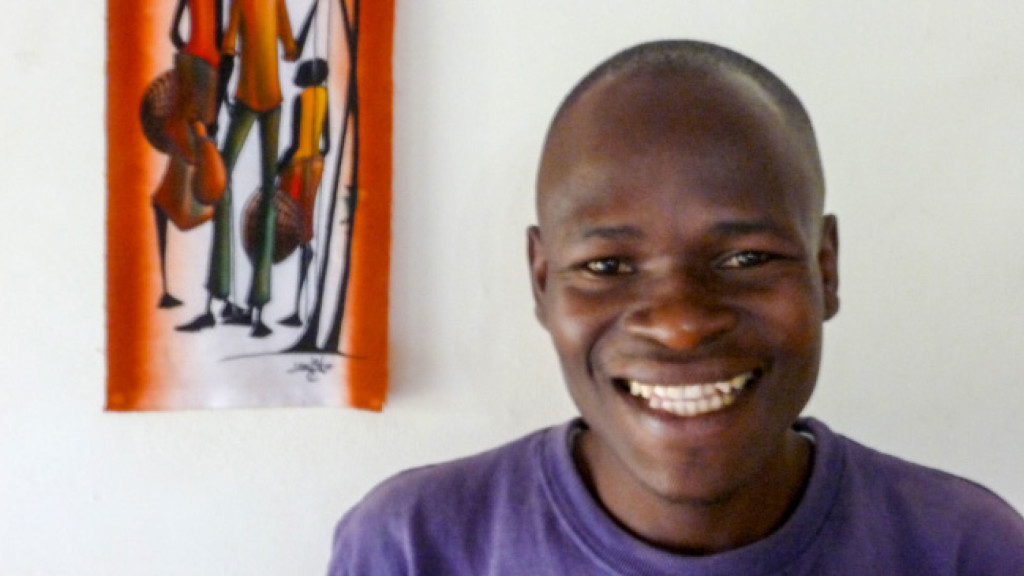 Meet Obed
Obed is a third year physiotherapy student as well as a Runyankore language helper for Derek. He writes:
"Iglorify God for the work that AIM is doing to extend the gospel to unreachable places and train disciples to fulfil the great commission and serve God within their professions.
I have known Dr. Derek, Nerina and Zillah Whitehouse for the last three years. Zillah, who is one of my lecturers, linked me to this wonderful couple to help Dr. Derek learn Runyankore, but since that time my Christian life was straightened up. Weekly Bible studies after language lessons, school evangelism and local church ministry with Dr. Derek showed how zealous he is to see the gospel preached. The couple have also raised up disciples in St. Luke's chapel through the Bible studies that they hold weekly.
Zillah is a very hard working young lady, so loving and taking Christ Jesus to be the centre of everything. The first time I met Zillah she encouraged me to be an active member of the church and other fellowships. The Christian love displayed to her students, friends and clients have caused many to become stronger in Christ Jesus.
Without Dr. Derek, Nerina and Zillah, my life would be still in the world. Useless, hopeless and with no future. May God bless them for the great work they are doing in Africa, serving Jesus within their professions."