Dr Caroline Bell is currently exploring her call to long term medical mission through a Short Term placement in Adi, D. R. Congo. Here she shares what life is like in the Congo and how things are going so far…
What is Adi like?
I am living with Annemarie (second from right in the picture above) a long term missionary in Adi, in a brick built house. Until recently, there was another short termer here; a girl from America called Laura (fourth from right in picture above). She was in Adi until the end of February, creating a video about the work of the HIV/AIDS programme. There are also nine cats – mum, dad and seven kittens of varying ages (the youngest are five weeks old and super cute!) – more chickens than I can keep track of, and a swarm of bees in the kitchen roof.
Adi is beautiful. It is a small village with somewhere around 1000 inhabitants. Most people live in thatched huts, although there are a few brick built houses. There is a church, nursery, primary and secondary schools and also a Bible training institute. Most people earn their living through subsistence farming and brick making in the dry season.
What is the weather like?
No snow… yet. It's dry season, so it's very dry(!) and hot, but it cools off at night and I even used my hot water bottle once!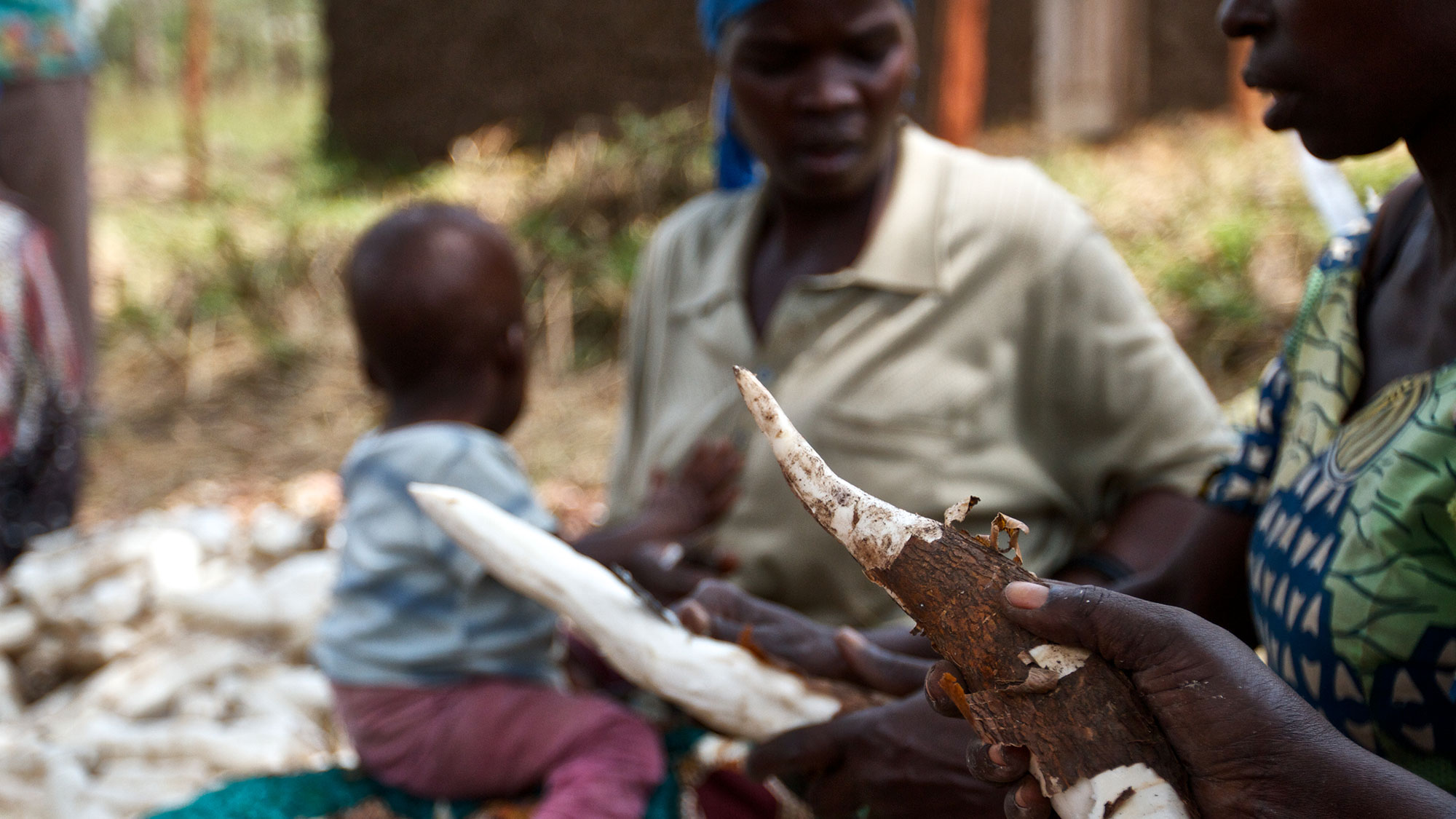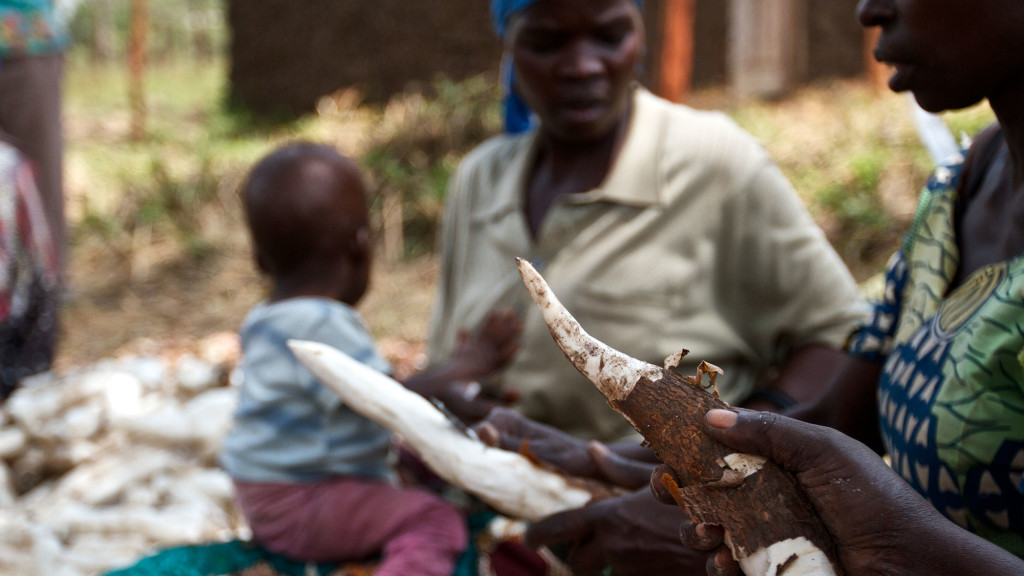 Manioc also forms a significant part of the Congolese diet. Here, women prepare the root.
How is the food?
Great! Our house help Anita cooks most of our food and she is an excellent cook. We eat a lot of rice, plantains, beans and leaves, often cooked with peanut butter. We have fresh fruit depending on what's in season (pineapples, papaya and bananas at the moment).
What is Church like?
Church is fun, and each week I understand more. There is a French service at 7.30am (which we tend to go to) followed by a Bangala service. There is lots of singing and dancing with opportunity for spontaneous worship (reciting Bible verses, prayer, singing) and a strong focus on the Bible.
How about the language?
My French is definitely improving. I have an hours' lesson every day except Sunday with Laura and our teacher Onzi. Onzi is a fantastic teacher; very patient and with a great sense of humour. Very few people speak English so there is plenty of opportunity to practice.
Have you started work yet?
Yes! I started in the hospital last week working alongside the other doctors. I think I am going to be based there rather than with the HIV/Aids programme. Our day starts at 07:30 with prayer and praise (at the hospital), and then we see patients on the wards before doing outpatient consultations. These finish about 14:00 and I go home ready for lunch before my French lesson at 16:00! Most of the doctors speak some English, so between their English, my French and a dictionary, we get by!
The hospital is fairly small. It has a maternity department, paediatric, surgery and medicine wards, an outpatient department and small laboratory. There is an ultrasound machine but no X-ray.
What are some of the best things about life in Adi?
Making new friends – everyone is very friendly and welcoming
Sundays – I love going to church, coming back for breakfast and then spending the afternoon sat outside reading or chatting with Laura and Annemarie
French lessons with Onzi
What are some the challenges?
Language! Especially at the hospital where although the working language is French, most patients speak only Bangala.
Finding my feet in the hospital – even simple things like being able to greet patients are difficult, and I need to adapt to working with limited resources.
What about you?
Short-term mission can be a good way to test a missionary calling, but it's also a great way in which long term workers in Africa can be supported. From building homes for new TIMO teams, to teaching in local schools, to covering work in our Africa-based regional offices, there are a whole variety of ways to get involved in AIM's work of reaching the unreached. If you want to find out more, contact Tom our Short Term Coordinator at: stc.eu@aimint.org