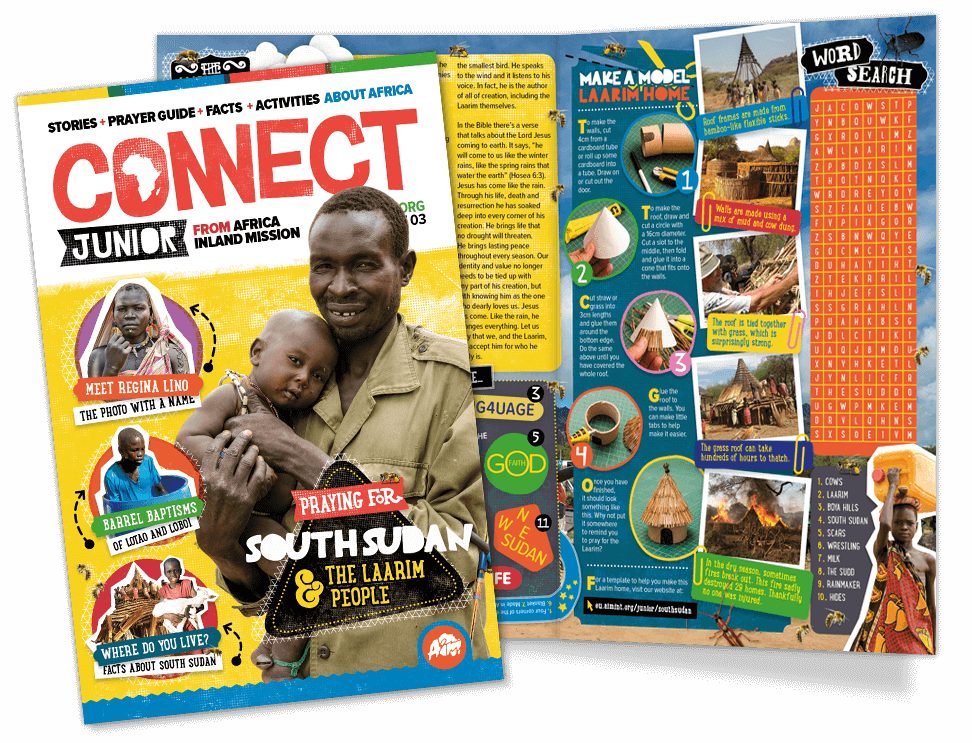 This article was from Connect Junior, Africa Inland Mission's quarterly prayer magazine for children aged 8-14. Sign up for future issues here.
Angelo is 23 years old and is beginning his final year of senior education. He has believed in Jesus and shares his story here:
'Before I came to know Jesus I was a bad person. I used to abuse people, becoming angry and insulting them and also stealing chickens and drinking alcohol. From the time I came to know Jesus he forgave me for all the things I was doing. I was doing those things without knowing that they were making God sad. Now my life is changed, I am no longer abusing people or drinking, because God has put his Holy Spirit in me to help me stop those things. Now I can just work for him.
I understood that God could forgive sins and thought if God could change my friends then he must also change me.
When I was about 14 or 15 years old I attended boarding school in Kapoeta where my friends would talk about Jesus after we shared our meal together. I was still not understanding for myself, but I could see that God had changed my friends. I understood that God could forgive sins and thought if God could change my friends then he must also change me. One of my friends invited me to the Church that Sunday and I then made the decision to follow Jesus. I began sharing the Word of God with others and testifying that God had changed my life. As I did this God helped me to grow.
Right now I believe God is calling me to do the mission work of sharing the gospel with Laarim people and in whatever place where people need the gospel. I hope to do this in the future times.'
We asked Angelo a few questions about what it was like growing up among the Laarim:
What kind of house did you live in? Who else lived with you?
The house was made of karte (thick grass) and keena (trees) with an outside nyeduldul (veranda) and inside part to put things. I stayed with my mother, sisters, brother and father.
What did you like to eat?
There was a round fruit called 'kurubuk' and I also enjoyed another one called 'logelac' as well as 'loteec' (honey) and 'ngaiya' (sorghum stalk).
What games did you play?
Sliding down the mountain on a water container! We'd also play with seed pods – pretending they were cows and building houses from mud.
Did children go to school?
Some. Many wanted to go but their parents would not allow them. They wanted them to take care of the goats and cows instead.
What did you want to do when you grew up?
I would say I wanted to become a big man, a chief to rule many people well. Others would say they wanted to become rich with many cows.
SaveSaveSaveSave