Paul tells us about some of the men who have studied at the English Centre and their reactions to reading the Bible.
Azir was one of my students at the English Centre last year when I served short term. Since being back in Chad, I've discovered that he lives just around the corner from me. He's about 25, and was born and raised in Saudi Arabia (which lots of Chadians are). Many don't have documentation to be there, so six years ago he and his family were kicked out and sent back to Chad.
"Many don't have documentation to be there, so six years ago he and his family were kicked out and sent back to Chad."
This is a common story among the men I meet here. Now, he has a little stall on a street corner not far from my house where he sells sweets and cigarettes. His motivation to study English is to enable him to have a bigger shop where he can sell more things, branch out and make more money.
Last year, while I was teaching him, he failed the end of class exams. He decided to take a break in order to work on getting up to the level he needed to pass the exam before coming back. Since I've been back, he has returned to the Centre. We use the Bible to teach English so at the moment he's going through the Old Testament in his classes. Last Christmas he wanted to know more, so he asked to read the story of Christmas in the Bible together. So we read it, and since then he has come back another couple of times to read more, which is really exciting. He's not made any declaration of faith but he has shown interest, which is great.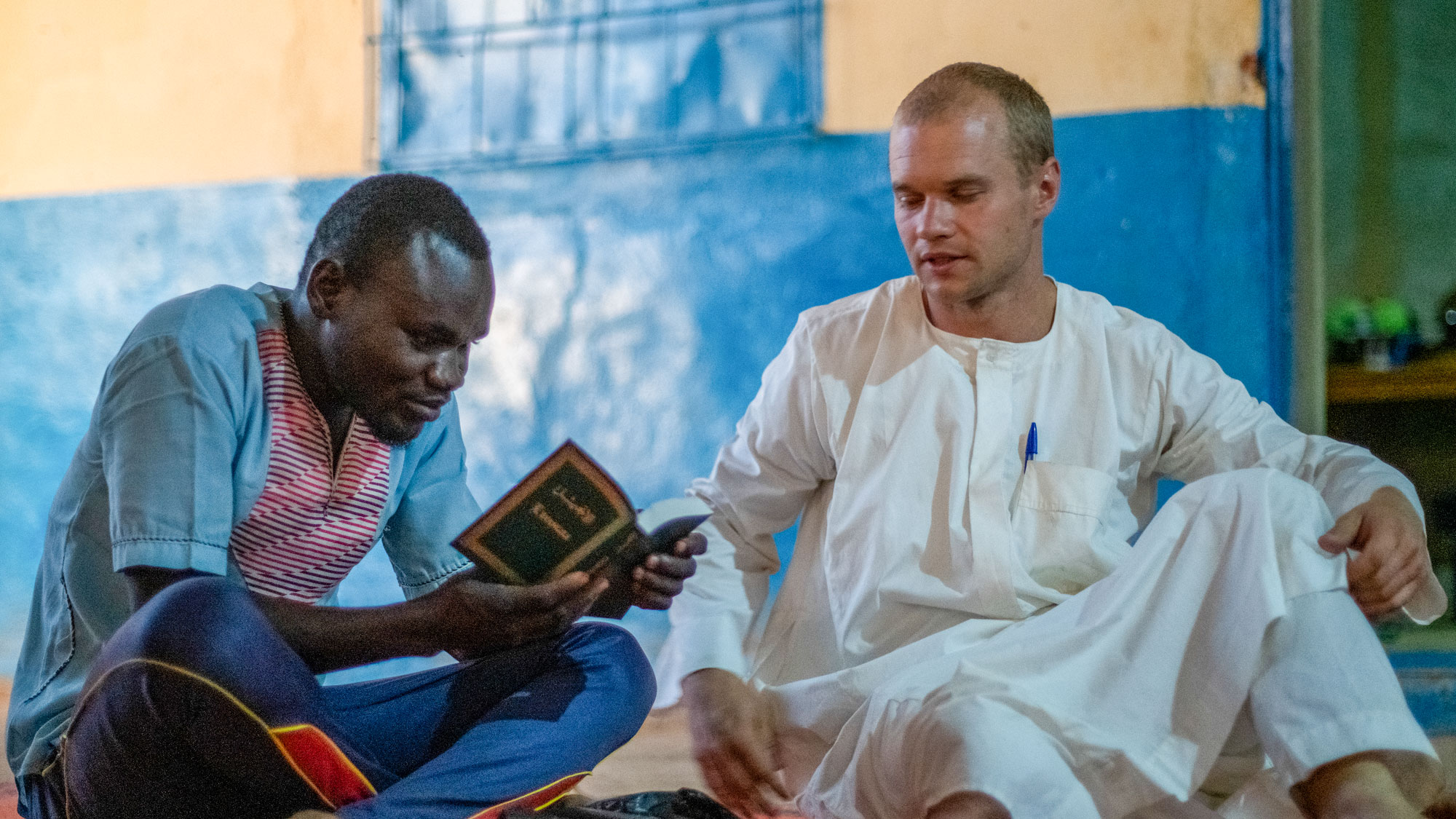 Tahir was also one of my students when I was here last year. He finished all the classes, which meant that as part of his English studies, he read the Bible story from creation to Pentecost. He went through it all, seeing the life of Jesus, how he so clearly fulfilled the Old Testament prophecies and that he claimed to be God. We became fairly good friends, and he would occasionally come to my house to play Bananagrams. But he never showed any further interest in the Bible.
Since I've been back, we have a new AIM colleague from America on our team, who has just started working at the English Centre. Lots of old students continue to come to the English Centre to meet friends, chat in English, continue practising. Tahir and my new colleague built up a friendship and started reading the Bible together. After never really showing much interest, Tahir has now started to say that he believes in Jesus, he believes that Jesus is God and he wants to follow him, to have a good relationship with God. It's super exciting. I had kind of presumed that nothing was ever going to come of that relationship, so I didn't bother to invest in it. Praise God that I was wrong and my colleague didn't do the same thing!
All names have been changed for security reasons.