Jurgen & Katja Hofmann
23 August 2019
"The whole set of Bible-stories (41 in total) is ready! We gave the first set to our friends Doris and Alphossin. This young pastor-couple go out to the small villages on a regular base to share the gospel. They take young Christians with them to teach them the 'trait' of evangelist. These young Christians come from our area and only speak the dialect. Some of them can read but the official language is still difficult for them. The stories in their own dialect are a wonderful tool for them to work with. But also for Doris and Alphossin. They are not of the Antanala tribe but they are Betsimisaraka, who speak a different language. With the stories in the Tanala dialect they too can preach better in the heart language of the hearers." Praise God that the Bible story set has been completed and can now be used to share the gospel!
Jurgen & Katja Hofmann
We live among the Tanala people of Madagascar. They are one of the island's least reached people groups. We are learning the dialect and are translating Bible stories, we hope to go from village to village sharing the good news.
Find out more…
Short Term
23 August 2019
Paul Wheatley was a short term missionary serving in English teaching in N'Djamena, Chad. He returned to the UK in July. "My last few weeks in Chad were simply amazing. The end of Ramadan allowed me to return to my old ways of daily meals out with friends – usually camel bbq or my favourite, kossey bangaw (fried bean balls and sweet potato). The social life also stepped up to a whole new level with so many evenings taken up that I had to start visiting people for breakfast, just to be able to fit everyone in! What a blessing each of those friends is. I was also teaching until the very last day, often encouraged by my students and our discussions about the identity of Jesus. Please continue to pray for the students who have finished those classes but who continue to look for answers."
Annemarie Boks
23 August 2019
"Margaret Badaru, a friend who studied in Aru to become a nurse (comparable with registered nursing) obtained her diploma at the end of July! The plan is that Margaret, after a placement at the hospital, will be involved in the treatment program of people living with HIV, and also will help in the AIDS Awareness Program… Praise God for Margaret's graduation. Pray that she may finish the loose ends of her study (practical reports and the last corrections of her thesis)… pray for the start of her work at Adi Hospital."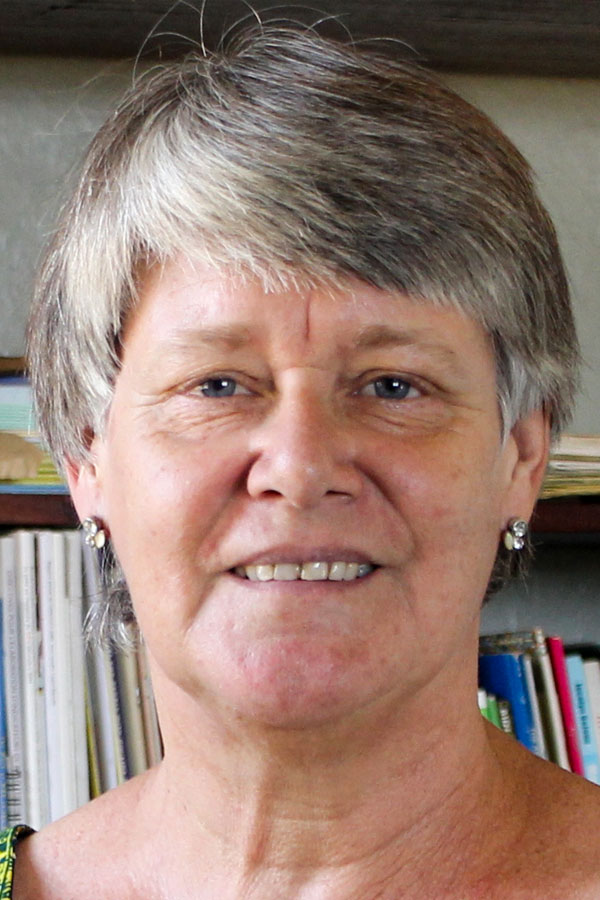 Annemarie Boks
I am a Director of the Aids Awareness Program of CECA 20, the church in DR Congo with which AIM collaborates. I am focussing on organising workshops for pastors equipping them for their ministry among those living with HIV/Aids.
Find out more…
Short Term
16 August 2019
Julia King is a short term missionary serving in teaching at Wellspring Academy, Chad. "In my new role at Wellspring Academy, I will be teaching the children of those who are serving here with AIM, taking the burden of education so they can focus on reaching this wonderful country with the good news of Jesus… School begins very soon and I need to figure out the curriculum and my classroom before then. Pray that God will give me wisdom as I do that, and that relationships with my class (and their parents) would build quickly when school starts."
Owen & Miriam Pugh
16 August 2019
"The discipleship seminar, although much less well attended than we had hoped, was all local people and majority Alagwa. It was a great opportunity to talk about how to approach cultural rites of passage and ceremonies, we also talked through practical steps in terms of finding people to start discipling, running a Discovery Bible Study group, etc. Also everyone was encouraged to find at least one person outside the church to disciple, and one person inside the church to be accountable to in it. This has continued to be taught and reinforced on Sunday mornings. Please do pray for each church member that they would seek out ways to disciple others, and for the church to be united around God's heart for the lost, rather than divided by differences of form, or styles of worship."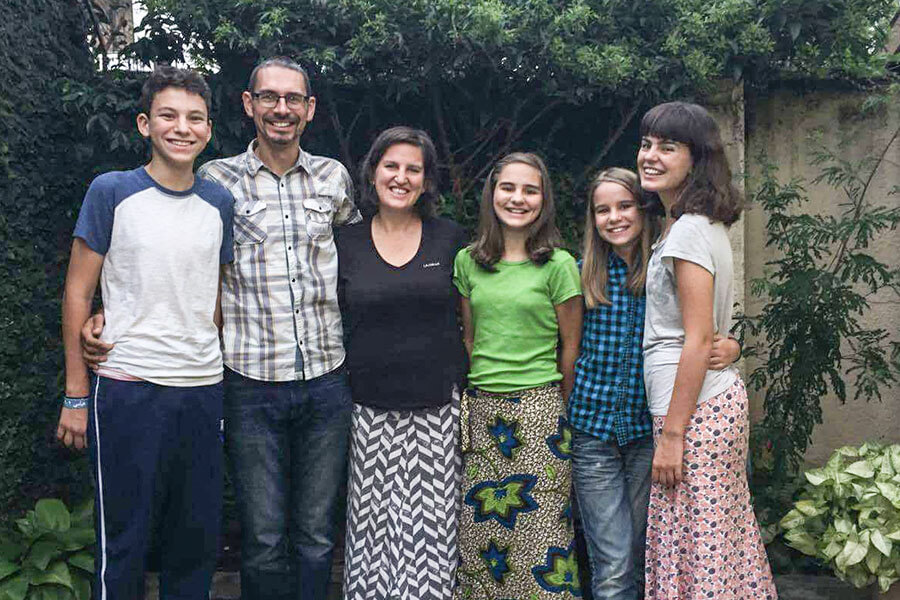 Owen & Miriam Pugh
We are working in a ministry team amongst the Alagwa. We are currently using a set of Bible stories, in the mother tongue, and are starting a project to translate the book of Luke.
Find out more…
Christoff & Sarah Power
16 August 2019
The Power family have recently moved from their assignment on Mayotte to work in the Southern Region office based in Nairobi, Kenya. Chris is the Regional Administrative Officer and Sarah works in member care. "Chris has a 40-minute commute to the Southern Region office and is getting used to the chaotic Nairobi traffic, and the new office hours rhythm, which is actually a welcome change. He is enjoying getting to know the Southern Region members, all 84 of them across six countries, and opportunities there are for more people to join them in their work and ministries… Sarah will be mostly working from home in between the school runs, once school finally starts (it's been a long summer for us!!). She is continuing coaching and looking for ways to develop member care for the Southern Region members." Please pray for Chris and Sarah as they settle in to these new roles, and that God will equip them to serve Southern Region's missionaries well.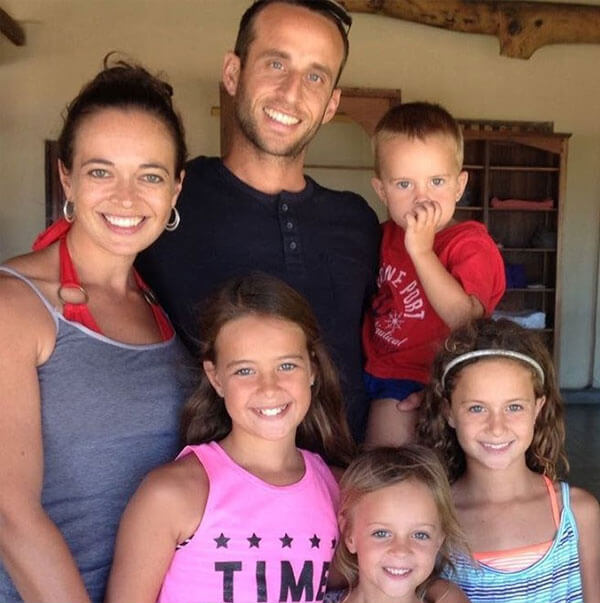 Christoff & Sarah Power
We live and work among the unreached Shibushi people. We run an English and School Support Centre in the community for children and youth. We share our faith as we participate in community life and through relationships with people around us.
Find out more…
Ard & Carin de Leeuw
9 August 2019
"Last month, Chauwa's [a local village] chief, Chief Marko, was shot dead. Chief Marko was a believer and led a Bible study group in his home every week. We are grateful that Marko is now with the Lord. Pray with us for Chauwa. Marko was the one who held the believers together and the believers in Chauwa are afraid that they will now be forgotten by the other believers. Pray also for the process of choosing a new chief. That this will be a man who will be open to the gospel and lead the people of Chauwa with a good heart."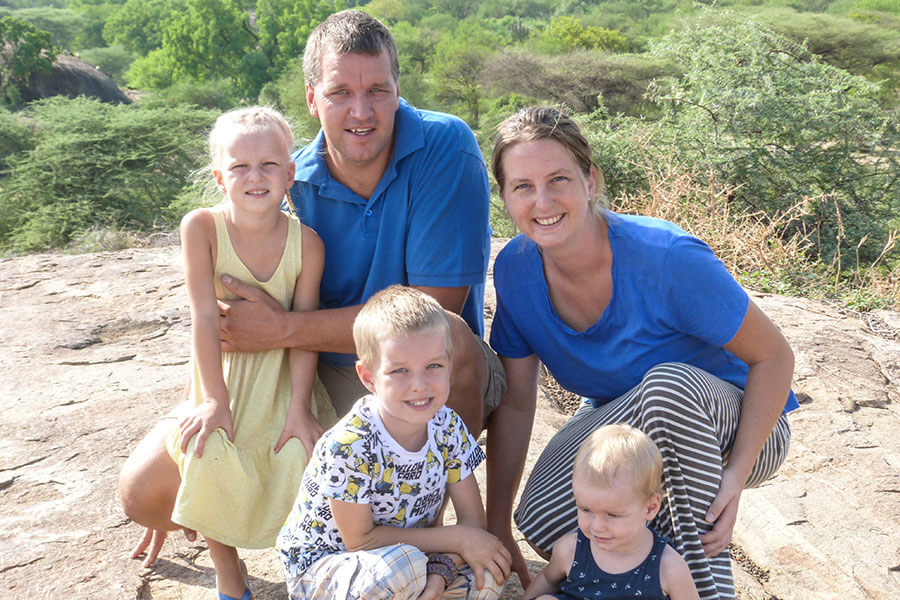 Ard & Carin de Leeuw
We are living in Kali among the Laarim in South Sudan. We have been learning language and developing relationships. Through Bible story telling and study we are discipling the Laarim, with the hope of seeing a Christ-centred church among them.
Find out more…
Matt & Amy Dixon
9 August 2019
The Dixons have now finished their assignment and have returned to the UK. Amy writes, "…with the busyness of the past few months and the emotions of leaving our home and friends in Morogoro and trying to find our place again here [in the UK] we are trying to go a bit slower for the next month before I start teacher training and the children start school. Matt will be looking for local part-time work so he can be more available for the children. This will hopefully happen after we have taken some down-time over the next few weeks or so whilst we are on our home assignment." Please pray for the children as they start school, and Amy as she begins teacher training, in September; and for Matt as he looks for a job while Amy trains.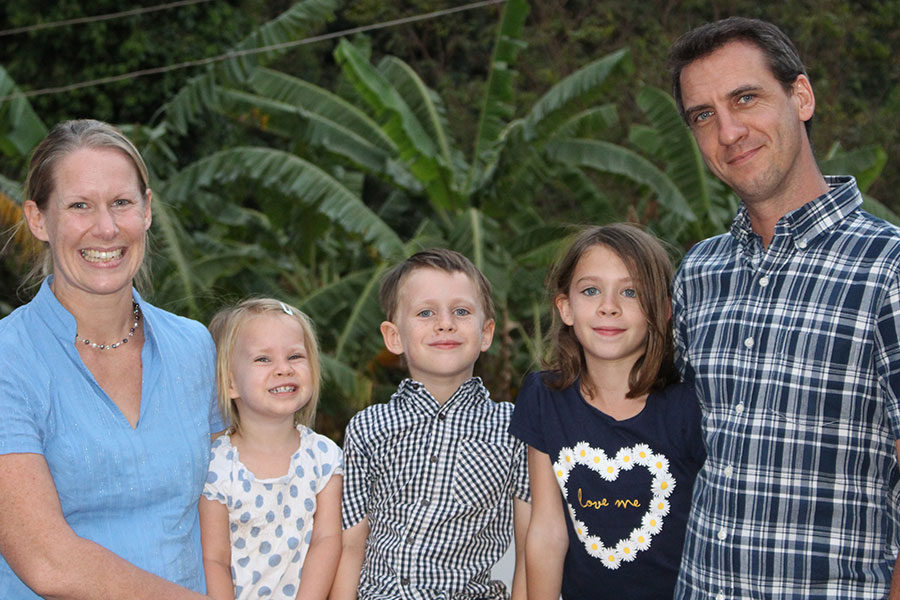 Matt & Amy Dixon
We are working with the Africa Inland Church of Tanzania. Matt is managing the construction of their retreat and conference facilities for the Institute of Bible & Ministry (IBM) at Sanga Sanga near Morogoro.
Find out more…
Bridget Howard
9 August 2019
Bridget has returned to the UK before retiring from serving with AIM. "A major activity has been to start on the search for property in order to have somewhere to settle after my home assignment. Wallington ticks many of the boxes on my list so this is where I've been viewing. Wallington is a small town and hasn't changed too much over the years since I first came here to teach. Some of the members of the church are parents of children who were pupils at the school when I taught there, and some of my contemporaneous colleagues live nearby. There has been a major change in demographics in the town, however, and several of those serving in shops are of Asian descent with connections with Kenya who love to talk about life in Nairobi and Africa." Please pray for God to provide somewhere for Bridget to live and for him to guide her into how she should be spending her time and energy in her retirement.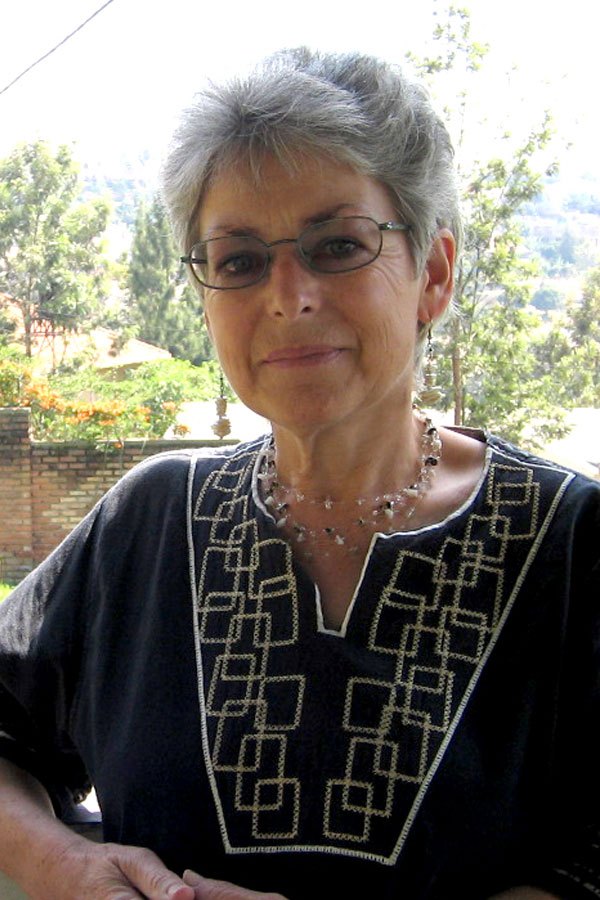 Bridget Howard
I teach English to adults in conjunction with New Creation Ministries in Kigali, Rwanda. I also lead the small team of AIM personnel in Rwanda facilitating vision and direction to various members in their different ministries.
Find out more…
Annemarie Boks
2 August 2019
Annemarie works in DR Congo as a Director of an Aids Awareness Program established by the CECA 20 (Communauté Evangélique au Centre de l'Afrique) church. "Last year in August an ebola epidemic started near Beni in the North Kivu Province. Since then 2.275 have been confirmed as having ebola, and 1.598 have died (as of July 3). Ebola is spreading because the fight against ebola knows lots of problems. The region where it started is a region that is invested with rebel groups and these groups even have attacked treatment centers and killed aid workers. Also they make people believe that ebola does not exist and that it is a dream of the government to suppress the people. Since last weekend, the end of June, a woman has been diagnosed with ebola in Ariwara, only 45 km from Adi, and has died since. And it is worse. A team of ISTM, a school to train registered nurses in Aru, has been in Ariwara, to supervise students, before coming to Adi. We are waiting for vaccines."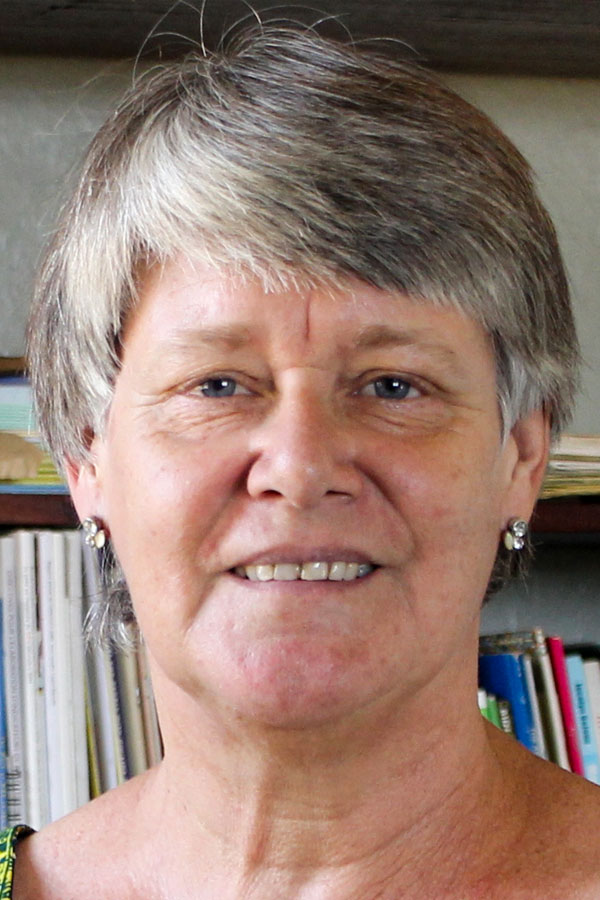 Annemarie Boks
I am a Director of the Aids Awareness Program of CECA 20, the church in DR Congo with which AIM collaborates. I am focussing on organising workshops for pastors equipping them for their ministry among those living with HIV/Aids.
Find out more…
Sheona Chisholm
2 August 2019
Sheona is serving at Africa Based Support (ABS) as Personnel Coordinator. "I have now been in Africa for more than half of my assignment term, in fact I only have another 6/7 months & I will have been here for 2 years. Oh how quickly time goes by. Is that a sign of getting old or is that just that our life is busy & goes quickly. This month, as I had thought has been a wee bit busier than the past few months have been. Two of our new AIMAIR families have arrived & are currently at ABO (Africa Based Orientation). This is in Nakuru around 3 hr drive from Nairobi. This is a 3 week course & is very helpful (or I thought it was when I did it!). All new long term missionaries with AIM do ABO at the start of their first assignment here in Africa. I drove to Nakuru last week to do the ABS presentation. "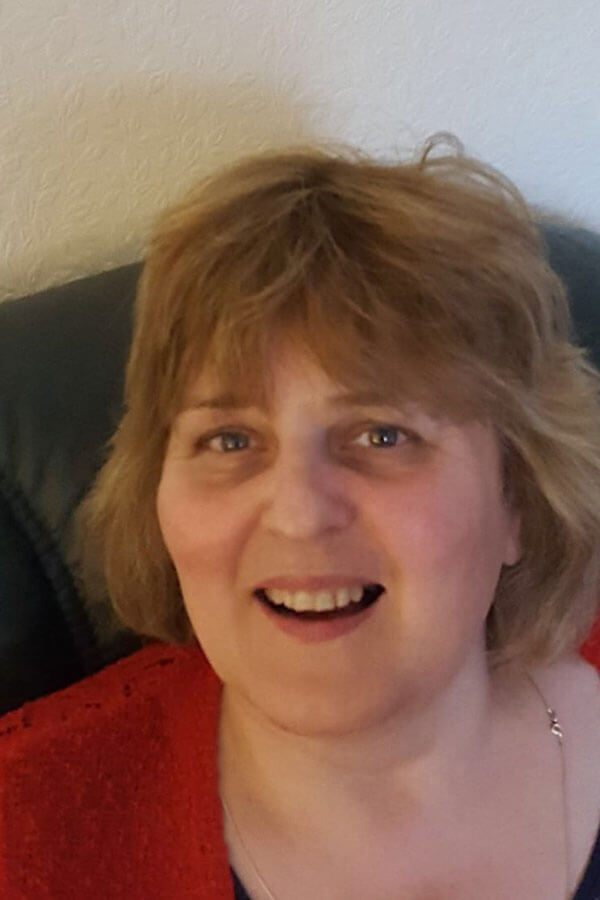 Sheona Chisholm
I serve at Africa Based Support (ABS), in Nairobi, as Personnel Coordinator.
Find out more…
Tony & Cath Swanson
2 August 2019
Tony & Cath Swanson have just moved to Entebbe, Uganda to carry on their work as AIM's African Mobilisation Consultant and Child Safety Officer. "We are so grateful for these last seven months in the UK. It has been a time of refreshing and catching up with family and friends. We are grateful to the many of you who hosted us and invited us to visit. Thank you for the opportunity that you gave to preach and speak on the work we have been and will be involved in. We are grateful for the provision of our flat in Romsey that has been such a lovely place to live. We are so grateful to the Worthing Tab for commissioning us in such a memorable way. We are so grateful for answered prayer in regard to Tony's dad who is now home and doing much better. We are so grateful for the opportunity we had to travel up and down this beautiful country of ours. We are so grateful for the support that we have received that has meant we are able return to Africa later today. We are so grateful for your continued prayers for us as we arrive and get settled in to life and ministry in Uganda."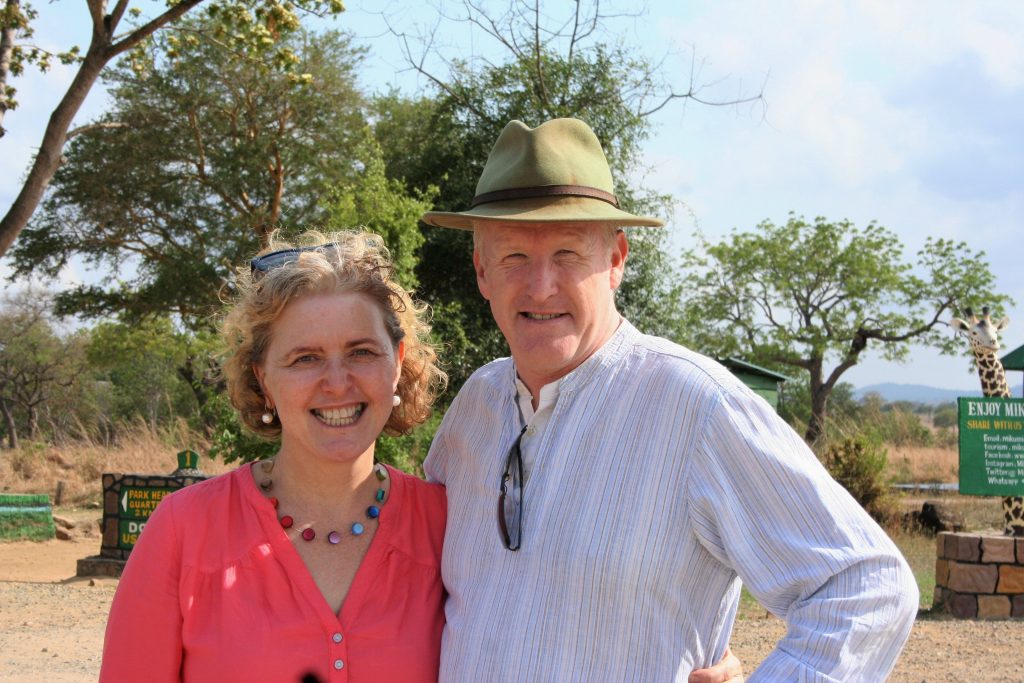 Tony & Cath Swanson
Tony is coordinator of the Institute of Bible and Ministry and is African Mobilising Consultant under the International Office. Cath is Child Safety Officer for AIM.
Find out more…
Short Term
26 July 2019
Amos Kennedy is a short term missionary serving among the Gabbra in Dukana, Kenya. "It's also exciting times in Dukana at the minute as we've seen growth of different crops in our Farming God's Way community plot. It's been great to see the local women engage and work hard at something they know to be theirs, but ultimately the Lord's. And also fantastic to see stuff actually grow in such a place that just seems as though nothing should ever grow in this ground which is just hard rock down quite a depth. We've got some crops beginning to sprout up and are hopeful they will grow something harvestable. Praise God that the garden project has gotten off to a good start, and pray that the women involved in the garden project would come to know Jesus if they don't already."
Peter & Katy Wilson
26 July 2019
Peter writes: "Mark Kinzer returns in a couple of weeks and my responsibilities as Acting Superintendent will soon be over. It's been enjoyable but crazy busy so we'd appreciate prayers for good rest over the holiday period. Pray for staff leaving and new staff arriving for next year and for the many families all over Africa saying goodbyes to their kids as they head off to college."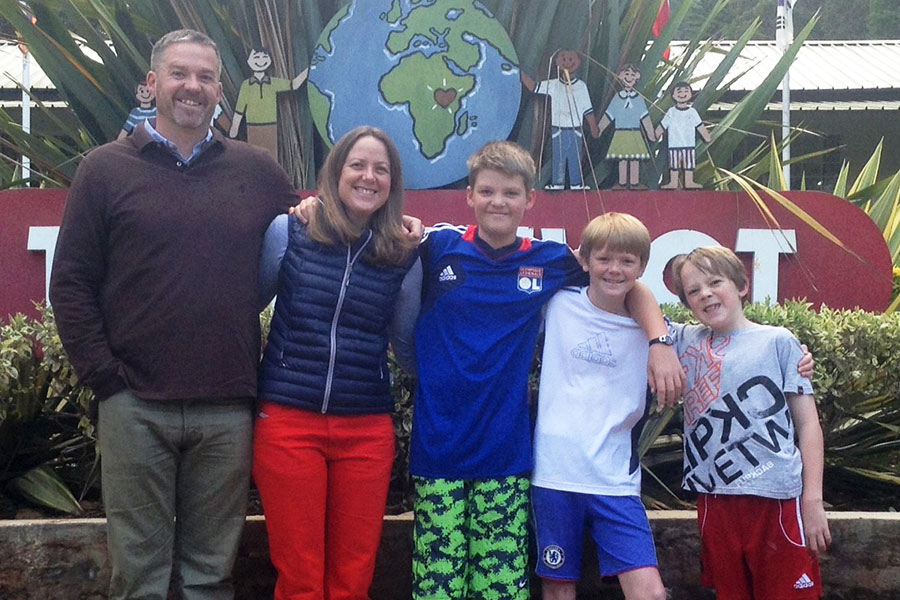 Peter & Katy Wilson
We are working at Titchie Swot, Rift Valley Academy's primary school. RVA is an AIM run school for missionary children. Peter is the Principal and Katy teaches second grade.
Find out more…
Andrew Beckham
26 July 2019
Andrew served among the Laarim with his wife Anna and daughter Phoebe, but the family had to return to the UK last year when Anna became seriously ill. Sadly, Anna passed away last Autumn. Andrew and Phoebe are currently visiting their Laarim friends in South Sudan. A week ago, Andrew wrote: "It is a year ago today that we left Africa and came back to the UK. Phoebe and I continue daily to miss and mourn the loss of Anna. I am sure that comes as no surprise. Having the opportunity to return to our home in Laarim, and revisit many of our favourite family places in Uganda and Kenya, is such a blessing. To retell stories to Phoebe and help refresh any memories of her Mum that might be fading… We said a fleeting goodbye to many as we hurriedly packed our bags one year ago. Others we did not have the opportunity to see. Since we left, news from our village has been hard to come by, with no direct way to communicate with any of our Laarim neighbours. I am eager and anxious in equal measure to see what has changed, hear news of births and deaths, share in the joys and sorrows of the last year. I pray the group of believers we left in Cauwa continue in the Lord. My prayer for them this year has been that of Epaphras (Colossians 4 v 12); that they may stand mature and fully assured in all the will of God. It will be a joy if we can mutually encourage each other towards this end." Please pray for safety for Andrew & Phoebe as they travel to the Laarim; for sweet reunions with those from their village; and that the believers there will be strong in faith and they and the Beckhams will be an encouragement to each other.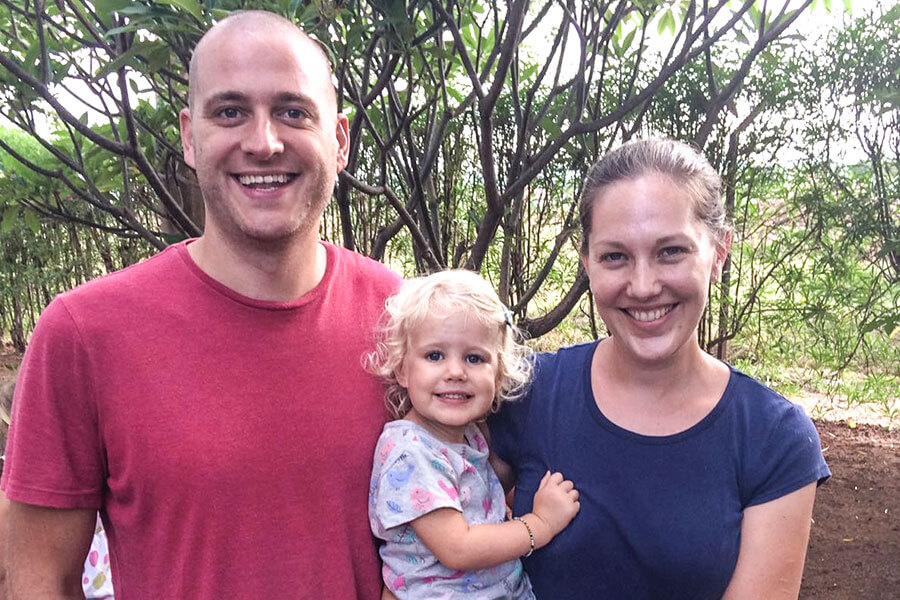 Andrew & Anna Beckham
We are currently part of a focus team working among the Laarim people of South Sudan. After our initial year of language and cultural learning we hope to engage in health care ministry, to support the development and growth of the church among this unreached people group.
Find out more…