What's happened?
On Thursday 14th March Cyclone Idai made landfall near Beira in Mozambique, severely damaging 70% of the housing in the city and killing at least 750 people. The flooding that ensued was devastating, and an area of 850 square miles became an inland sea. The cholera epidemic that occurred in the aftermath has been contained, but malaria is now rampant and malnutrition is a growing problem. Now, just six weeks later, a second cyclone, Cyclone Kenneth, has hit the north of Mozambique. The storm made landfall 60 miles north of Pemba on Thursday 25th April, with stronger winds than Idai.
Cyclone Kenneth
Pemba itself sustained damage from the high winds but survived. The district of Macomia however, which was in the direct path of the cyclone suffered massive destruction. A ministry partner there estimated that 80-90% of the houses were flattened. There is now extensive flooding and the predicted rainfall figures are double what they were for Cyclone Idai. Overall, two metres of rain are expected. Parts of Pemba are flooded and houses are crumbling, and there are reports of a large bridge north of Pemba having been washed out. So far, 38 fatalities have been recorded.
All our missionaries based in Pemba are safe and accounted for. Pray for them as they do what they can to support those around them who are also affected by the cyclone, in an area that was already struggling with rural insurgency which had led to deaths and food insecurity.
Cyclone Idai
The storm made landfall 20 miles north of the port city of Beira on Thursday 14th March with winds of up to 177 km/h (106 mph), but aid teams only reached the city on Sunday 17th March.
A UN aid worker told the BBC that every building in Beira – home to half a million people – had been damaged. There were no energy supplies and no means of communication.
Gerald Bourke, from the UN's World Food Programme, said: "No building is untouched. There is no power. There is no telecommunications. The streets are littered with fallen electricity lines.
"The roofs on so many houses have fallen in, likewise the walls. A lot of people in the city have lost their homes."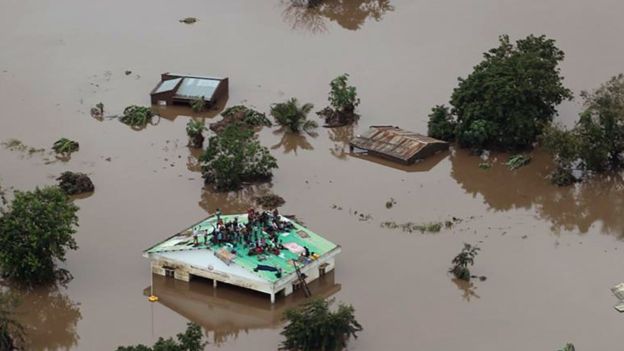 How are our missionaries?
All of our people in Beira, Chimoio, Espungabera, and Lamego are all safe.
A missionary family from the States, the Koehns, have helped hundreds of people, with 300 people camped out around their house, seeking safety and shelter. They are completely cut off from road travel. Other missionaries report that two major bridges over two large rivers were washed away. On another river the bridge was "wobbling". Many people were effectively stranded.
Travel in Beira is very limited, so getting around is problematic. There is no way to get from Beria to Lamego or from Lamego onwards to Espungabera/Chimoio.
Download a powerpoint
Download a powerpoint slide to use in your church. It contains a number of prayer items to help you pray for the current situation in Mozambique.
How bad is the situation?
Most of those known to have died so far were killed around Beira, the country's fourth largest city with a population of about 500,000, authorities there said.
More than 1,500 people were injured by falling trees and debris from buildings including zinc roofing, officials in the capital Maputo told the BBC.
"Almost everything has been affected by the calamity," Alberto Mondlane, the governor of Sofala province, which includes Beira, said on Sunday 19th March, "We have people currently suffering, some on top of trees and are badly in need of help."
On Tuesday 26th March we heard from one of our missionaries that road access to Beira had been re-established, the flood waters were going down, and electricity was being restored. Yet the situation is far from normal. Cases of cholera and malaria have been increasing and emotional trauma is taking its toll on those who have been affected by the cyclone.
The situation doesn't just affect Mozambique. Zimbabwe have declared a state of emergency whilst Malawi is also struggling with severe flooding. These countries desperately need our prayers.
Thank you…
Thank you for the donations that you have made so far. They are enabling assistance to be ongoing for the communities where our members have influence, and where people have lost homes, crops and family members. There are also plans to repair our Beira personnel's roofs, which have all suffered substantial damage. All are still living with leaks, mould and mildew in their living quarters, but they do have some form of roof cover. The houses have concrete roofs but the corrugated iron sheets have been torn off, allowing the elements to penetrate the concrete. In most cases this is affecting people's health.