Paul and Helen share with us how we can be praying for some of the local Karimojong believers in Uganda.
Praise the Lord for Isaac Lokiru.
Isaac Lokiru (pictured below) is a young Karimojong man with a real passion for the gospel and to see the church grow among the rural communities. He's been waiting to go to university for the last year but has been delayed due to Covid-19 (he has a local government bursary – most of his family are illiterate). He has spent this last year discipling and encouraging the local churches. He's recently helped to plant a church with some lay readers and local Christians in Nakwangmoru. He's also been teaching some Christians to read so they can read the Bible on their own and he's taken over much of Paul's work encouraging the lay readers and church teachers. Pray for him that, at all times, he himself is trusting in the gospel for his salvation not any work he is doing for the Lord. Pray that he would be able to disciple others to take over the work whilst he is away at university and pray the Lord would provide the money for motorbike fuel for him to visit the churches and church teachers.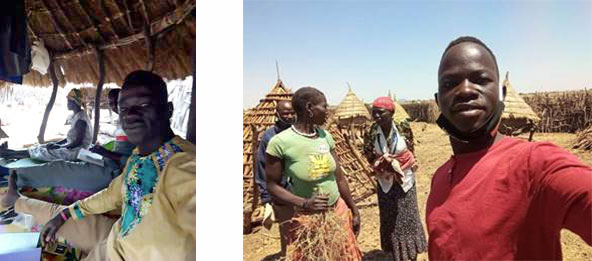 Pray for Adia Rosa 
Adia Rosa (the lady in the red bandana in the photo above) is a passionate believer in Nateripus who has brought many others to faith and is involved in encouraging the church plant in Nakwangmoru. They moved their village about 200m from its previous site as it gets too muddy in the rainy season – this involves deconstructing the grass thatch houses and fences, moving them and reconstructing them on the new site. On Friday they had almost finished and a fire broke out burning down her house with all her belongings inside as well as damaging others nearby. It's currently the end of dry season meaning everything was very dry and burnt quickly, and it's also when the food stores are at the lowest. Pray the Lord encourages her at this awful time, that she wouldn't ever doubt the goodness of God who gave up his son for her. Pray she would know his nearness and love for her. Pray the small Christian community around her would support her and help her rebuild after this and that this would be a witness to her neighbours.
Pray for Amuk and Betty
Amuk is one of the lay readers/church teachers, and Betty is his wife. They are keen to have their marriage formalised in church as so far they have only done some of the local cultural formalities. However, Betty's family is demanding further payments of the bride price which they have completed paying. It's a really sad situation and puts a huge burden on church teachers, who all struggle with this issue at different points. Being in ministry doesn't provide any living like cattle raising and raiding does. Pray that God will give them wisdom in balancing respecting the elders and parents and serving the Lord. Pray that they wouldn't be too discouraged – at the beginning of their marriage instead of encouragement and mentoring they have leaders on all sides condemning them (the church leaders for not yet having a "church wedding", and the cultural leaders for not fulfilling the cultural obligations). Pray the Lord would encourage them at this time and speak to them through his Word and pray that it wouldn't impact the ministry that Amuk does.