[content_block id=18267 slug=connect-april-2018]
Meet our new Mobiliser for Greater London…
I'm Gareth Jones, and I'm married to Helen, who works as a GP in a predominantly Muslim area of East London as well as with the local NHS commissioners of local maternity and children's services. We live in Upton Park in East London, in the shadow of the old West Ham football ground. We have five wonderful children aged from 17 down to six.
I became a Christian at 17 after quite a challenging start in life. It was through engaging in outdoor pursuits with a local missionary organisation (World Horizons) in South Wales that I encountered people who modelled God's love and passion for the nations. Over the past 30 years I have had the privilege of travelling to many different parts of the globe to help inspire and envision, equip and empower individuals, teams, churches, projects, and businesses. I've had the joy of working in mission, in churches and in Christian charities.

A way in…
Tim Heaton explains how short term mission helps mobilise people to serve long term:
The reality of reaching the unreached can seem incredibly daunting: "Lord, you want me to leave home, learn a new language and cross cultures for the unreached?" There are so many unknowns that we can be paralysed by fear. While on the face of it, it might seem overwhelming, summer teams and short terms opportunities offer an excellent, non-threatening way in. I led a summer team for two weeks to North Africa in July 2017. Five of us went, hoping to learn a bit more about the local culture, pray for the many unreached people around us and, in some small ways, help AIM's long term workers. We were all amazed at how much we connected with the local people, especially the students at the English conversation classes. We made friends, loved the food and saw God move!
One team member was particularly challenged by the reality of the task of reaching the millions of unreached people. She had joined the team without any intention of serving with AIM long term but then she met the people, laughed with the students, ate with new friends and realised that she could be part of the Lord's plan of bringing eternal hope and light to a very lost people. If you give it a go, maybe it's not so daunting after all…
Year of transition
I left the role of deputy CEO of City Gateway (a charity engaged with marginalised young people) in September 2016 and for the past year I have worked as the Associate Pastor of Shoreditch Baptist Church, as well as working freelance with various charities and importing coffee to support indigenous mission work in Ethiopia. This last year has been a time of transition for me. My main aim has been to hear the still small voice of God regarding my future and what God has in store for me and my family.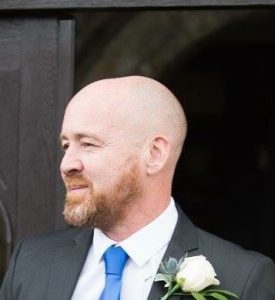 As part of this journey God spoke in several ways through several people and in several places. My brother-in-law spoke to me, and his words highlighted a whisper that I had been hearing from God. This all led me to reread Isaiah 49:6 where the Lord says: "It is too small a thing for you to be my servant, to restore the tribes of Jacob and bring back those of Israel I have kept. I will also make you a light for the Gentiles, that you may bring my salvation to the ends of the earth."
I felt that God was confirming to me that my focus should be on the nations.
Then, while I was in Ethiopia, I started to feel convicted about the prayers that I pray. I asked God to show me what to pray, and since then I've had it on my heart to pray for Africa to be transformed.
These moments helped me to consider my future and ultimately led me to apply for the role of Greater London Mobiliser with AIM.