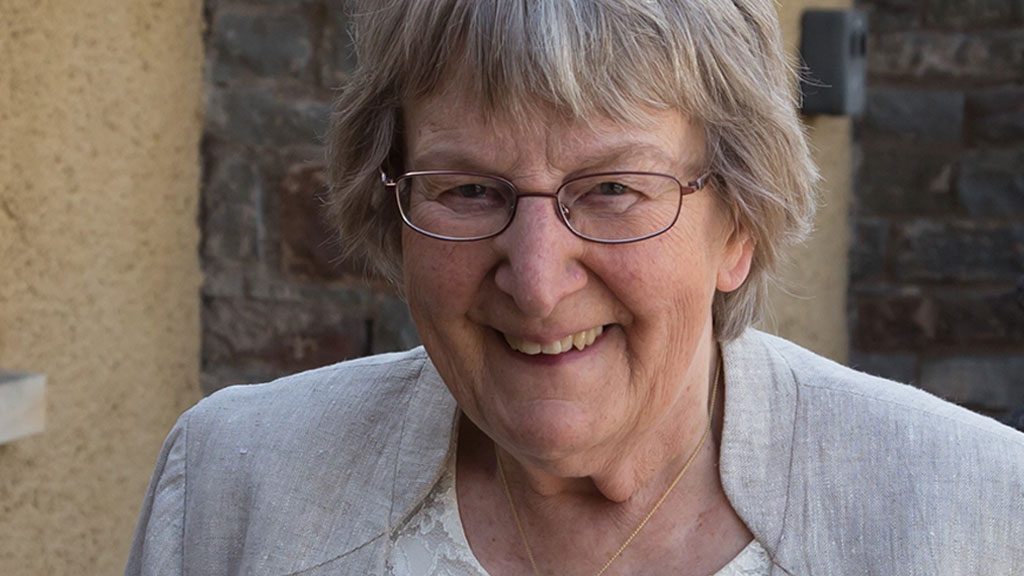 4 April 2019 // Articles & Stories
Lois Clark – giving the glory to God
After retiring from her work with AIM in 2006, Lois Clark, wrote her career summary. Lois passed into glory on 7th February, and as we've read her reflections on her time serving with AIM, we have been challenged and inspired by her humility and faith.
Lois grew up in a Christian home, her father a Church of England minister. She, along with her brother and sisters, was adopted by her parents. She always knew this, and said that when she became a Christian as a small child, 'in a childlike way of understanding, I thanked and wondered at God's wonderful gift to me, "twice adopted". It has always been a major part of my life to be in a wonderful human family and then to be part of God's family for eternity. What a privilege! But also I was a part of the AIM family too – a bonus!'
On leaving school, Lois trained as a registered nurse, and then a registered midwife. Her involvement with CSSM Beach Mission in Perranporth as a teenager, and then at the nurses Christian Fellowship were formative times for her in terms of both receiving teaching and making friends.
In July 1971, she remembers knowing the Lord's call to mission as she was listening to him in an evening service. She initially got involved in mission short term, following an out of the blue 'SOS' call in the autumn of 1971 from Keith Waddell, an AIM missionary doctor, who she had supported through the nurses' Christian Fellowship at Barts Hospital. He wrote to her asking if she would help, as he needed someone to stand in for one of the midwives at Kagando Hospital in West Uganda. This, alongside an inheritance that she received which helped her to fund this initially, were the times where she felt the Lord significantly guiding her to the mission field. Her home church then took on her financial and prayer support, which she found a 'humbling and significant' experience.
This short term trip led to longer service, and Lois was in Uganda from 1972 until 1981. She was there during the time of Idi Amin, and remembered it as a place in which she knew the Lord's peace, love and forgiveness, despite the long hours of work, soldiers and shortages that life there entailed. It was a significant time for her. She said, 'Uganda showed me what I was like. God had to deal with me when tired and under pressure. But I knew such love and friendship there, and I learnt so much from Keith.'
God laid on her heart such a burden for the Muslim world, which continued for the rest of her life.
From 1981 until 1991, Lois lived on an Indian Ocean Island, and during this time, God laid on her heart such a burden for the Muslim world, which continued for the rest of her life. Here, she worked as a nurse and midwife, alongside Dr Bill and Laura Barnett. She also set up a maternal and child health programme, training local personnel, which experienced many 'rocky rides' due to political instability.
In 1991 Lois returned to the UK when her mother fell ill. She went on to spend two years in France from 2004-2006, doing outreach to people from the Islands.
She describes her missionary career as one which seemed to have 'many bumps along the way', especially due to lack of sleep and constant medical work! There were many challenging times, but she saw the Lord's help in amazing ways. "What I have written here seems most inadequate," she said, "However, I would like to express my most deep and heartfelt gratitude to all the loyal folks at St. John's, Parkstone, and Christ Church, Westbourne, who over many years supported and prayed for me and the work of Africa Inland Mission."
We trust, with Lois, in God's promise that the 'casting of bread' (Ecclesiastes 11:1) will bring glory to him for eternity!