Andrew and Anna Beckham moved to live among the unreached Laarim people at the beginning of September this year. As they continue to settle in and adjust, they tell us what day to day life is like in the Boya Hills, South Sudan.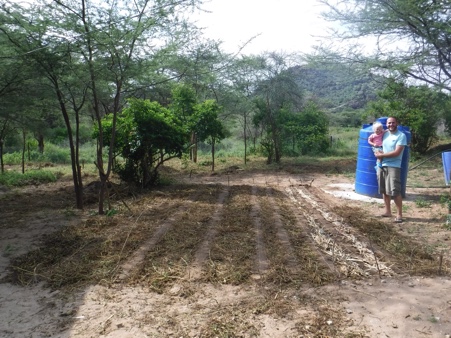 The Beckhams are using the 'Farming God's Way' principles to grow vegetables to supplement their diet. Read more about 'Farming God's Way' and how it transforms lives.
Several times now we have been asked by supporters how we spend our days here, so we thought we'd give you some idea of what our weeks look like.
Learner Phase
For at least the first 6 months we are in the 'learner' phase of our time among the Laarim. We do not presume to come with greater wisdom or experience than our local chiefs and neighbours, and so we want to spend time learning from the Laarim about their culture, the way things are done, what is important to them and what beliefs they hold. We spend a significant portion of each day learning and practising the Laarim language, developing our skills to be able to communicate effectively and meaningfully. Andrew often has the help of a young man called Loriang, who has good English from primary schooling. Anna is yet to find anyone who can regularly help, particularly with any English. We go for daily walks to get acquainted with our surrounding villages and greet as many Laarim as possible. We have also found drawing maps a useful way of keeping track of people's homes, key meeting spots and landmarks. Our desire to know the Laarim is also helped by having Martin, our guard/ maintenance man, who we are getting to know better every day, living in a tent on site.
Team Days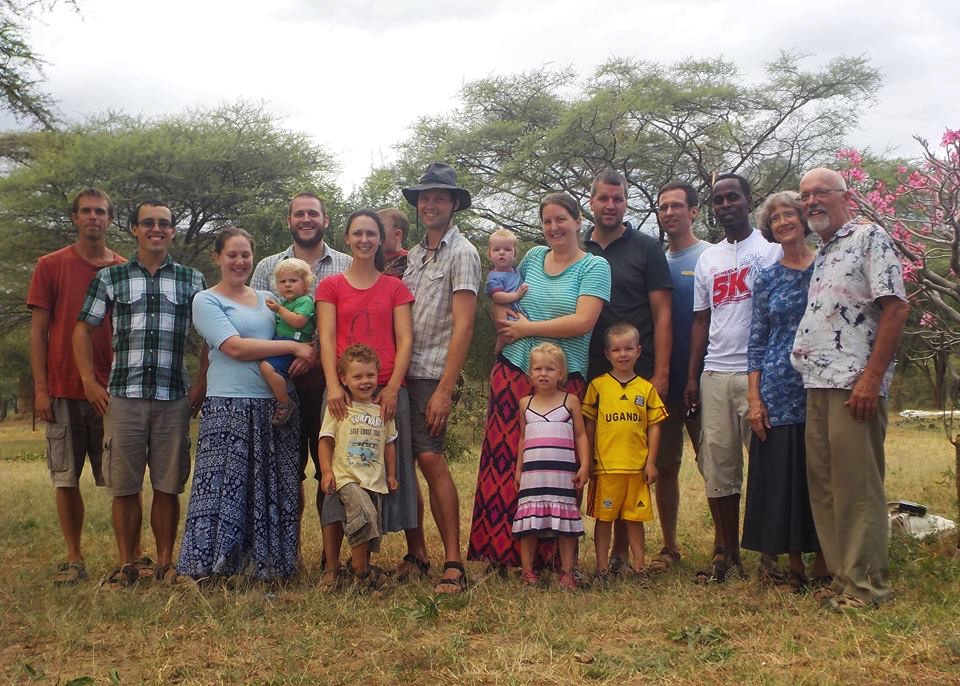 The Laarim team, from left to right: Jacob Borgelt, Andrew Wallace, Anna, Andrew and Phoebe Beckham, Felicity, Jeremy, Orlando and Caspian Aitken, Carin, Ard, Amy-Faith, Manoah and Boaz De Leeuw, Ryan Boudreau, Noblesse Ruhumuzira and Linda and Philip Byler.
One day a week we meet as a team to share fellowship and continue to grow in unity and mutual support. We are working through a curriculum together, with homework! This month we have been looking at an insightful book called 'When helping hurts' by Steve Corbett and Brian Fikkert, thinking about how to lovingly provide aid to those living in poverty (in a way that doesn't do more harm than good!) and the holistic help that comes ultimately in the reconciliation that only Christ can bring.
Home Life
The rest of the days fill up with jobs around the home as we continue to settle into our house and compound. Despite the currently lush green surroundings after the recent rains there is very little in term of locally cultivated fruit or vegetables due to the chronic instability and frequent displacement of this region by conflict. This has made our diet a little lacking in both variety and vitamins. With this in mind we have spent some time preparing a garden on our compound to try and grow some bits and bobs to supplement our meals. We are following a scheme called 'Farming God's Way' and have so far had success with a good number of seedlings. We continue to pray that this would be a blessing to both ministry and stomach.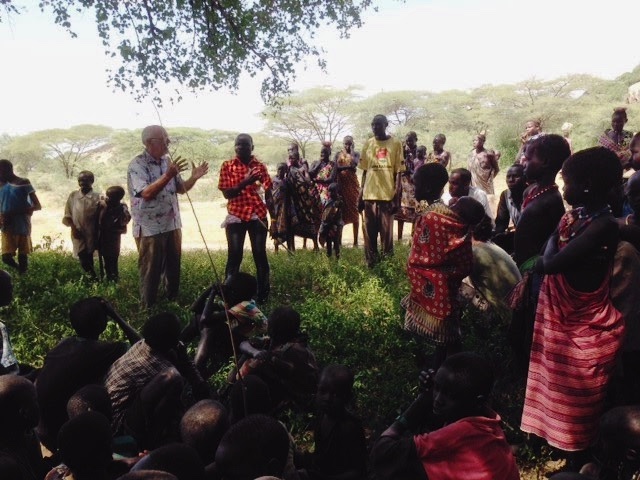 On Sunday mornings the team gathers in Chauwa village to sing and pray. They are usually joined by a group of excitable Laarim women and children.
Sabbath
On Sundays we eagerly take a day of rest and relax together as a family, with little to disturb us other than the croaking and wheezing of some emphysematous goat that chooses to graze just the other side of our fence. Monopoly deal and Dobble card games feature highly. We head to Chauwa village in the morning to sing songs and pray together with anyone who wants to come and join us, normally this is a large group of excitable local children and a rowdy bunch of Laarim women who seem both entertained and bemused by the whole spectacle. We trust that God can use these humanly weak and chaotic moments for His glory!
Hospitality
Hosting is also a key part of our new life and everything is dropped when a guest comes by the compound for a cup of Chai and a chat. This often makes it hard to stick to the plans and routines over which we may have been used to having more control in the UK.
Our closest relationship so far has been with Marco, the chief of Chauwa village, and his first wife, Nyepotei (first of three). In this culture where the marital dowry is paid in cows it is not uncommon for the rich and important to have several wives. As well as visiting our house on a number of occasions they have been kind enough to host us in their own compound, showing us their home, introducing their family and providing a traditional meal of curdled milk and sorghum porridge (it tastes as it sounds…).