Activities for Children
Are you looking for some fun things to do at the moment while we are all having to stay at home? We've pulled together all the different activities from our past editions of Connect Junior, our prayer magazine for children between the ages of 8-14, to keep you and your families entertained, whilst also learning about and praying for people in Africa. From games, colouring sheets, and crafts to recipes, there's bound to be something to keep everyone busy! If you aren't already signed up to receive Connect Junior, you can do so on the right hand side of this page. 
Prayer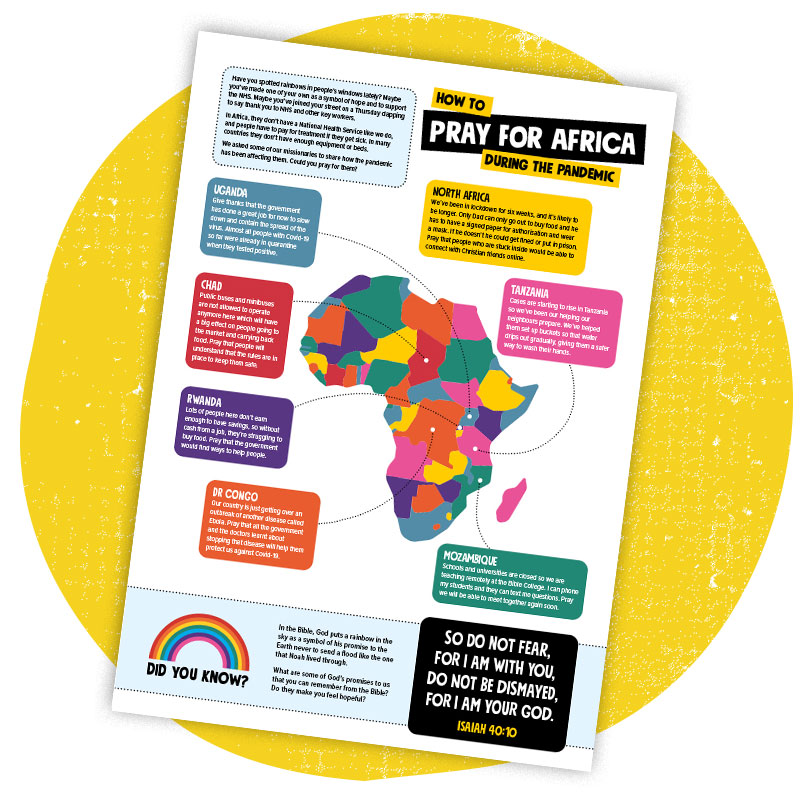 Pray for Africa & Covid-19
Why not use this map of Africa which has some information to help you pray for the current situation in some of the countries we work in. Please bear in mind, this information was correct when we wrote it, but of course, the situation is changing all the time, so you might want to add some of your own prayer requests.
Games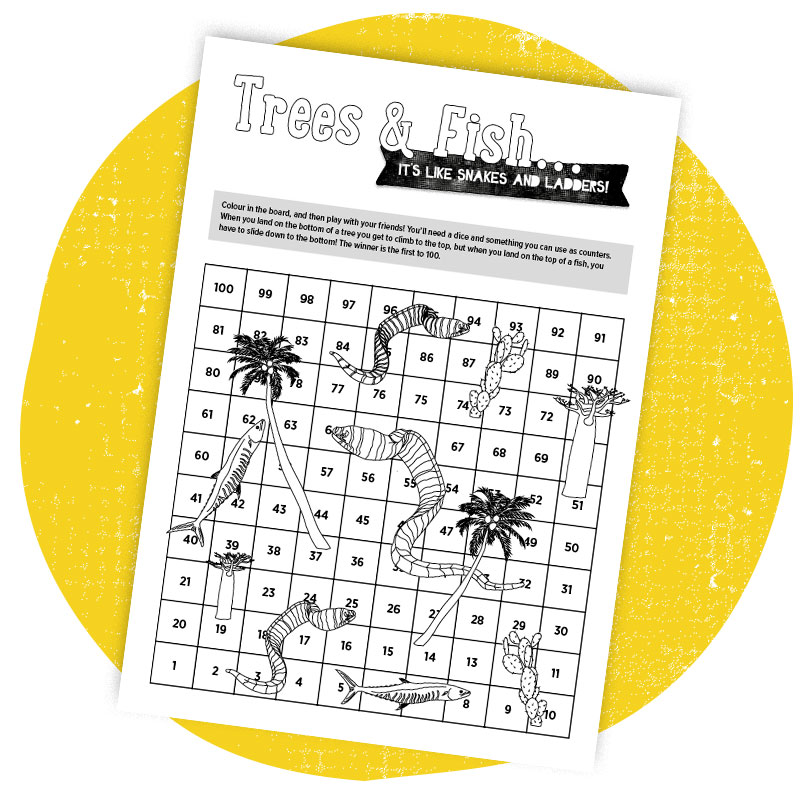 Play Trees & Fish!
Why not print out this board and colour it in, and then play with your family! You'll need a dice and something you can use as counters (maybe some coins or little stones). Take it in turns to roll the dice, and when you land on the bottom of a tree you climb all the way to the top. But be careful you don't land on the top of a fish, or you'll have to slide down to the bottom of it! The winner is the first person to reach 100.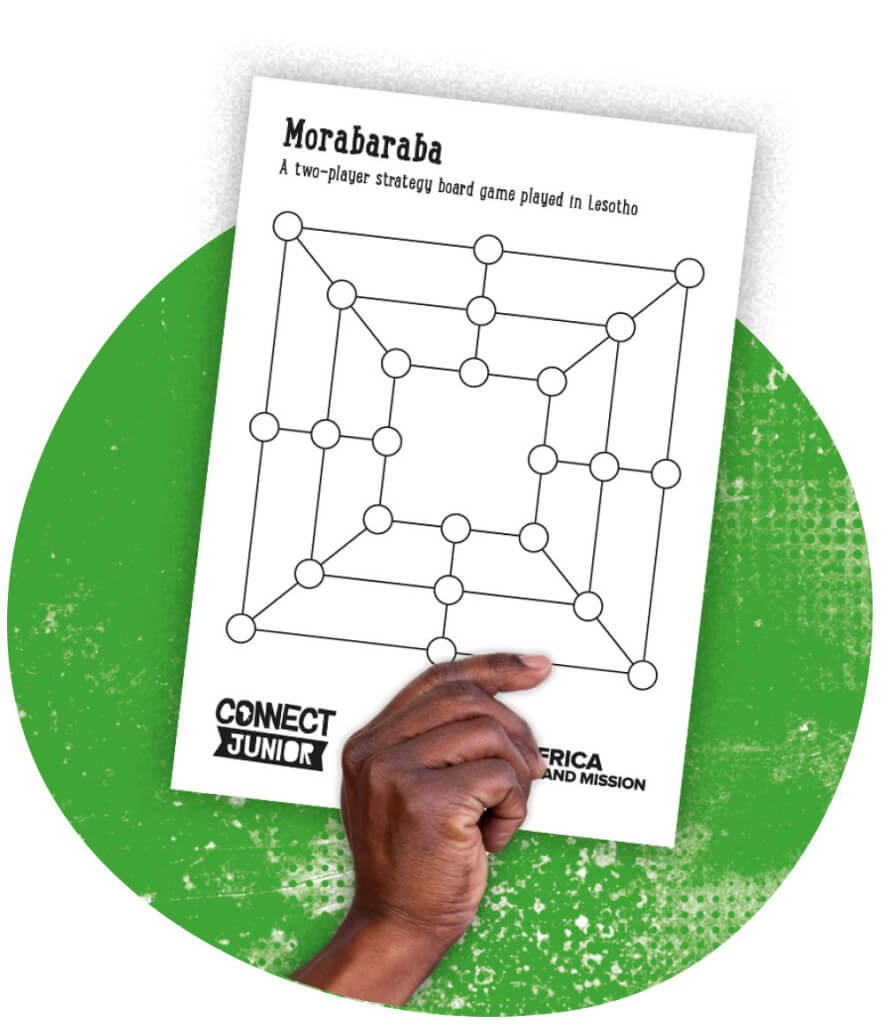 Morabaraba board game
Morabaraba is a strategy game often played by the shepherds who live up in the mountains of Lesotho. But they aren't the only ones to have played it! It's thought that this game was first played 800 years ago. It's been played by Roman soldiers, wise men in India as well as the shepherds on the hillsides of Southern Africa. So why don't you have a go? Download a board and the rules here.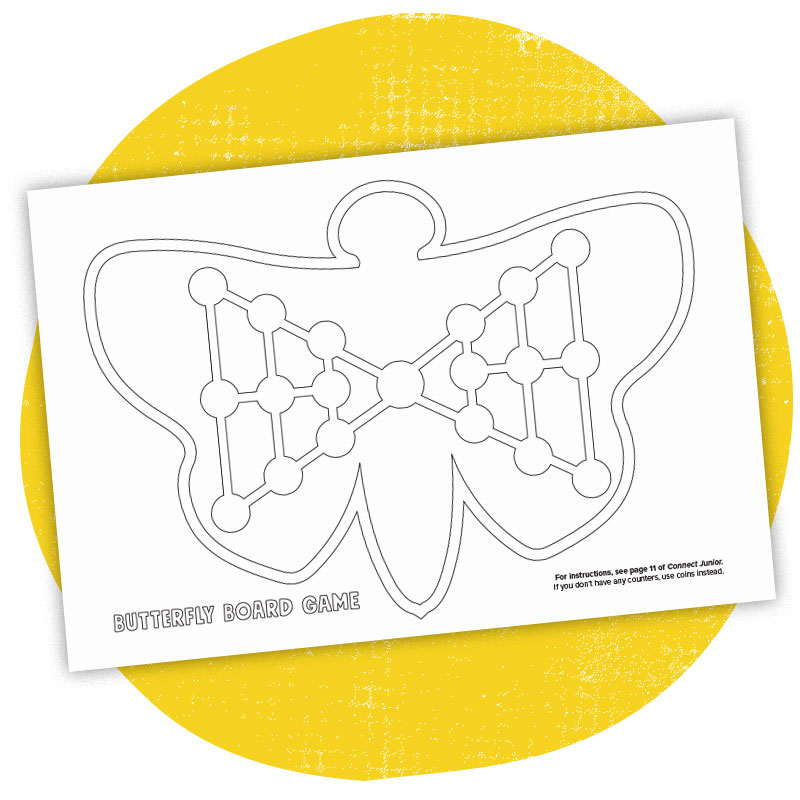 Play the butterfly game
Mozambique's most popular board game is called Butterfly. It's a strategy game played with two players. Find something to use as counters (small pebbles or coins), download the board and instructions here and why not play it with your family?
Colouring sheets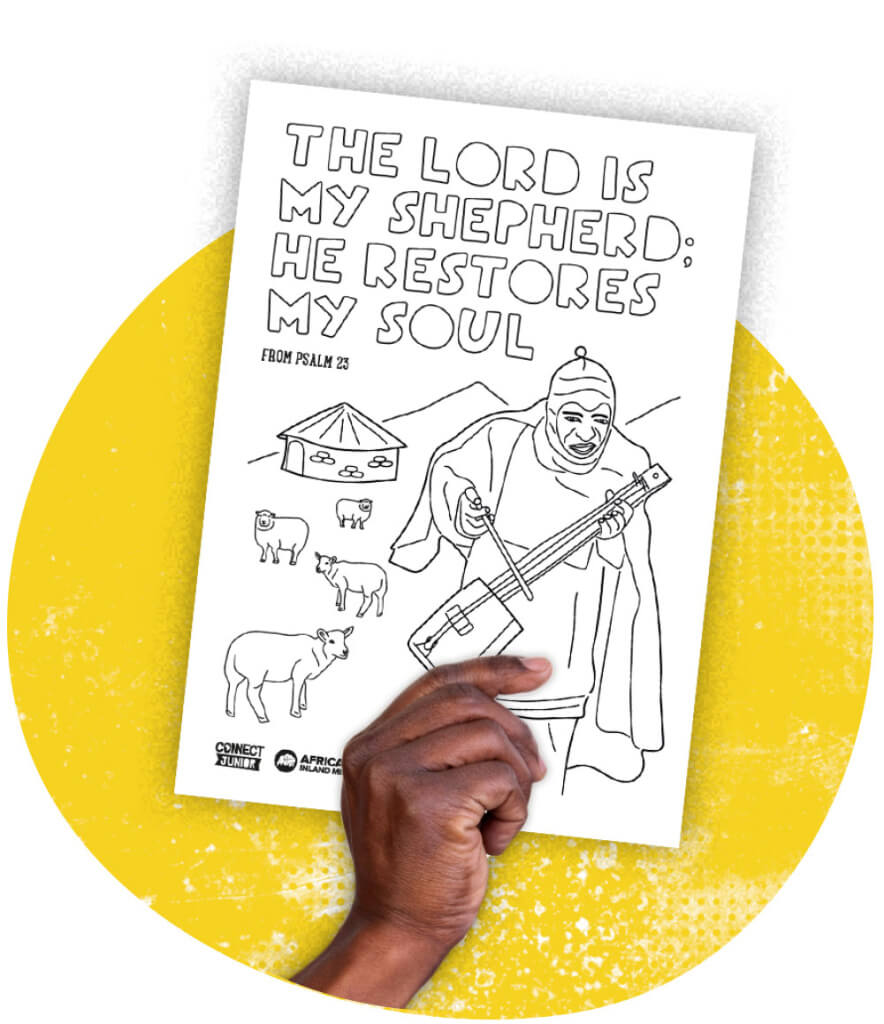 'The Lord is my shepherd' colouring sheet
The shepherds who live in the mountains of Lesotho write and sing songs on homemade instruments. They often sing about their lives. Many Bible stories have also been recorded and made available to the Lesotho shepherds, which they love to listen to. Download and colour in this picture of a Lesotho shepherd with his instrument and Bible verse.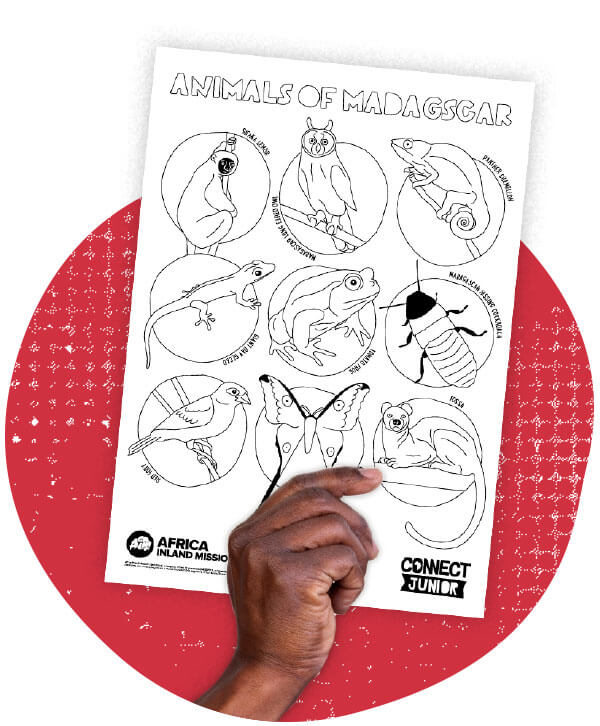 Animals of Madagascar colouring sheet
Madagascar is home to a whole lot of plants and animals that are found nowhere else on Earth. In fact 90% of all the plants and animals there are only found in Madagascar. That includes lemurs, the carnivorous fossa and the Madagascar long eared owl. Why not download this colouring sheet which shows some of the animals you might find in Madagascar?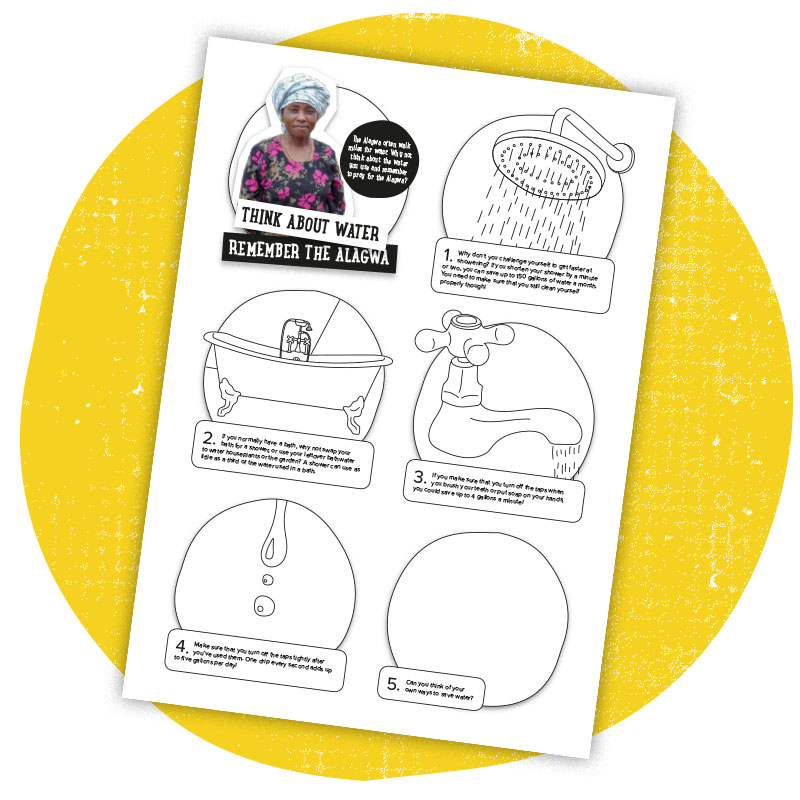 'Think about water' colouring sheet
The Alagwa people live in Tanzania. Wheras we just need to turn the tap on to get water to drink, cook and wash, they often have to walk for miles in order to fetch their water. Why not download this colouring sheet which will help you pray for the Alagwa and to think about the water you use?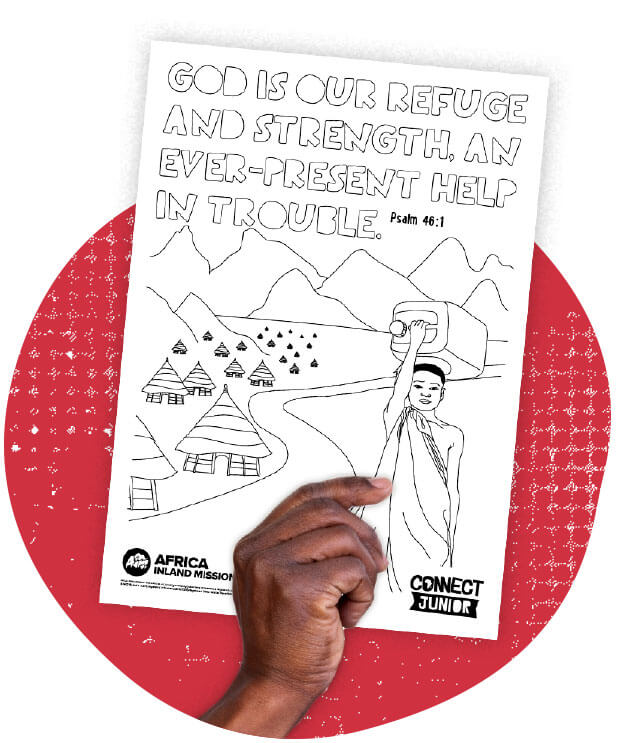 'God is our refuge' colouring sheet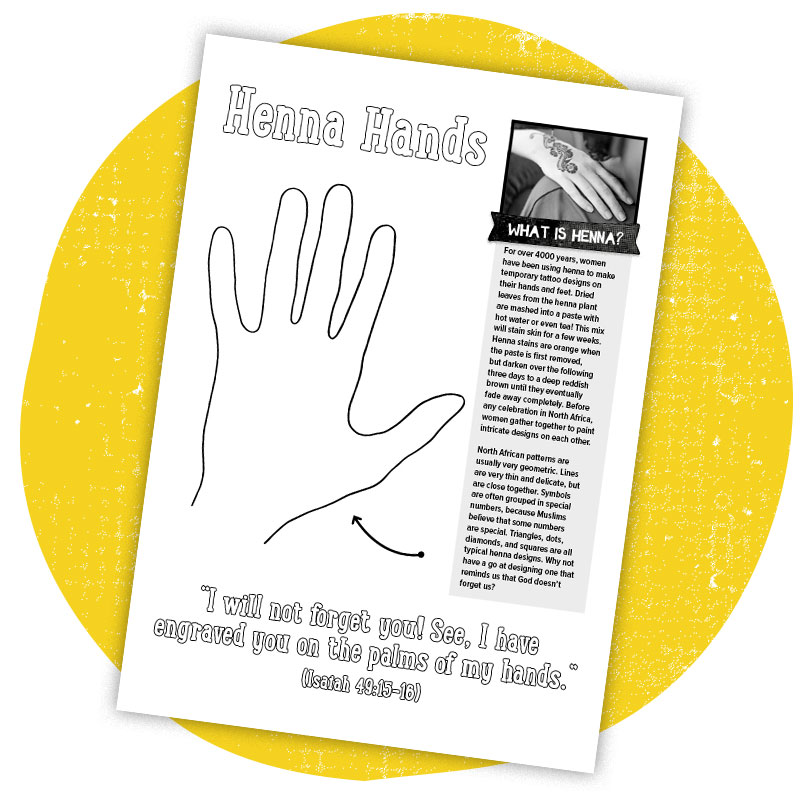 'Henna hands' colouring sheet
For over 4000 years women have been using henna dye to make temporary tattoo designs on their hands and feet. The dye will last for a few weeks. Before any celebration in North Africa, the women will gather together to paint intricate designs on each other's hands and feet. Why not download this hand template and have a go at designing one that reminds us that God doesn't forget us?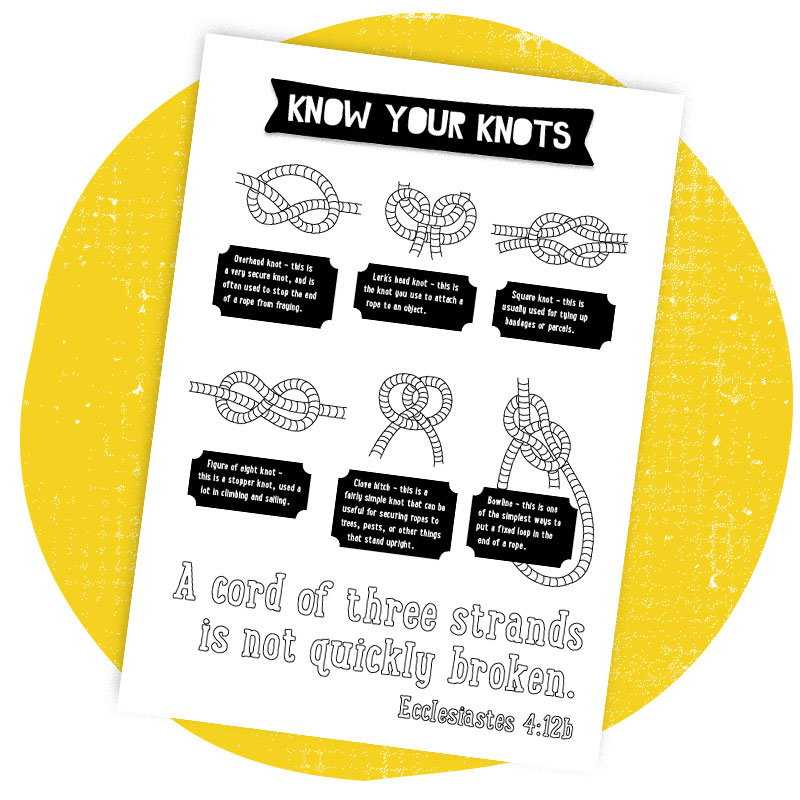 Know your knots!
The Zigua people who live in Tanzania used to make a lot of things with a crop called sisal. One of the things they used the fibres from the plants to make were ropes that were then used on navy ships around the world. Nowadays, most ropes are made from Nylon, a type of plastic. But, to help look after our oceans and stop plastic pollution, people are starting to use sisal to make ropes again. Why not download this sheet showing you how to tie different knots and see if you can do them?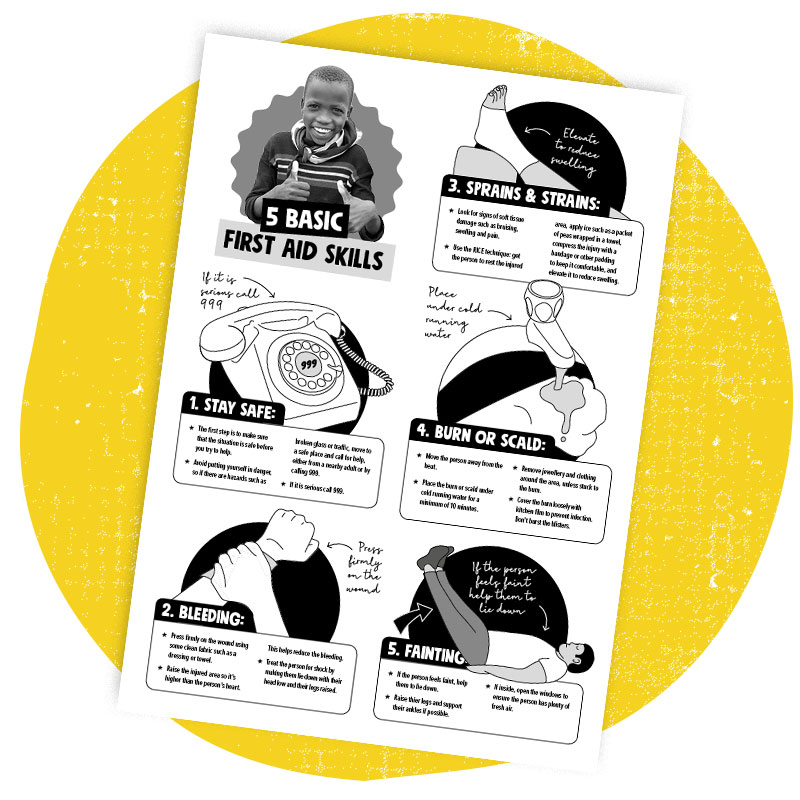 Learn some basic first aid tips
It can be really useful to know a few basic first aid tips incase you or one of your friends or family get hurt. Why not download this PDF which explains some basic first aid tips? You can colour it in yourself, and then stick it somewhere to remind you of these basic tips.
Crafts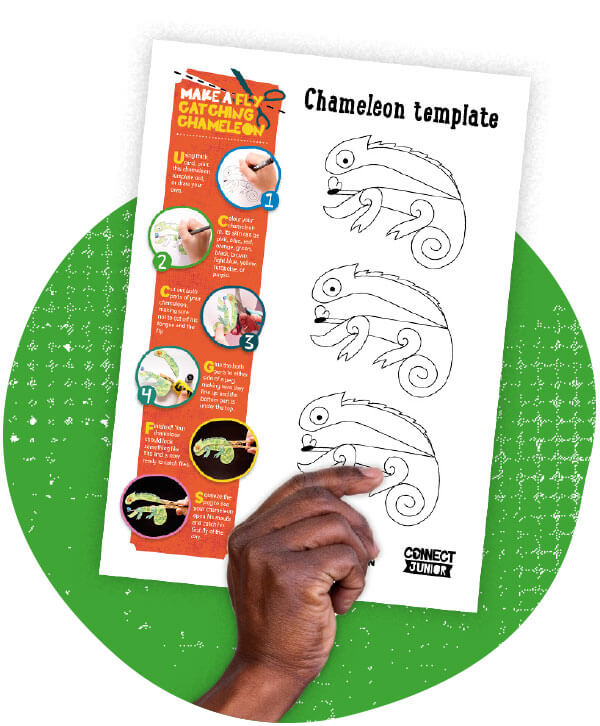 Make a fly catching chameleon
You can make this fly-catching chameleon who opens and shuts its mouth! All you will need is some thick card so you can download and print this chameleon template and instructions, a pair of scissors, some colouring pencils (o anything else you want to use to decorate it!), glue and a peg. Download the template here.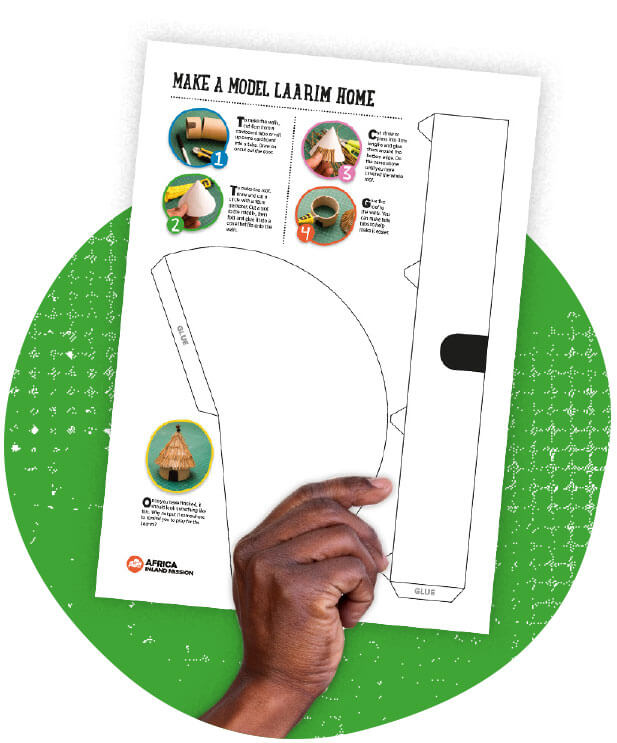 Make a model Laarim home
The Laarim live in the Boya Hills of South Sudan, a rugged and hilly terrain with rich savanna, high grasslands and scrub bushes. They live in round houses with a tall roof. You can download and print this template and instructions and build your own model Laarim house. You will need some thick card, a pair of scissors, colouring pencils, glue and some grass or straw. Download the template from here.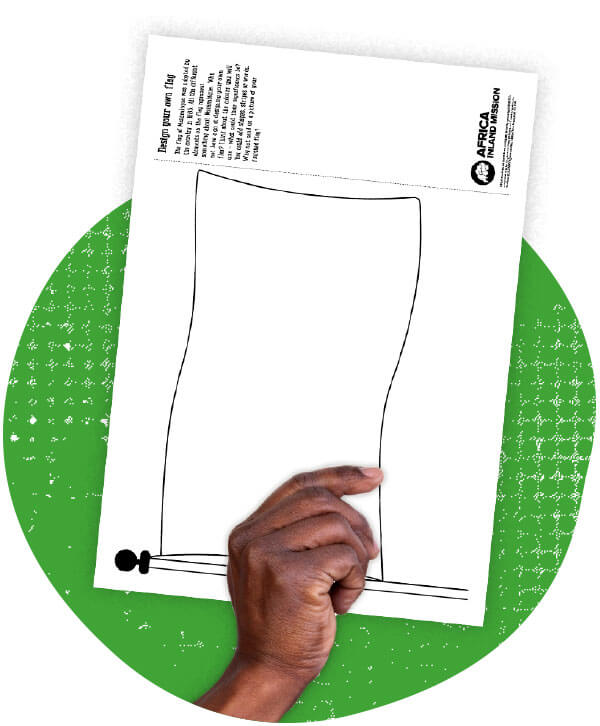 Design your own flag
The flag of Mozambique was adopted by the country in 1983. All the different elements on the flag represent something about Mozambique. Why not download this template and have a go at designing your own flag? Think about the colours you will use – what could their significance be? You could add shapes, stripes or words or even objects or animals. Why not send us a picture of your finished flag?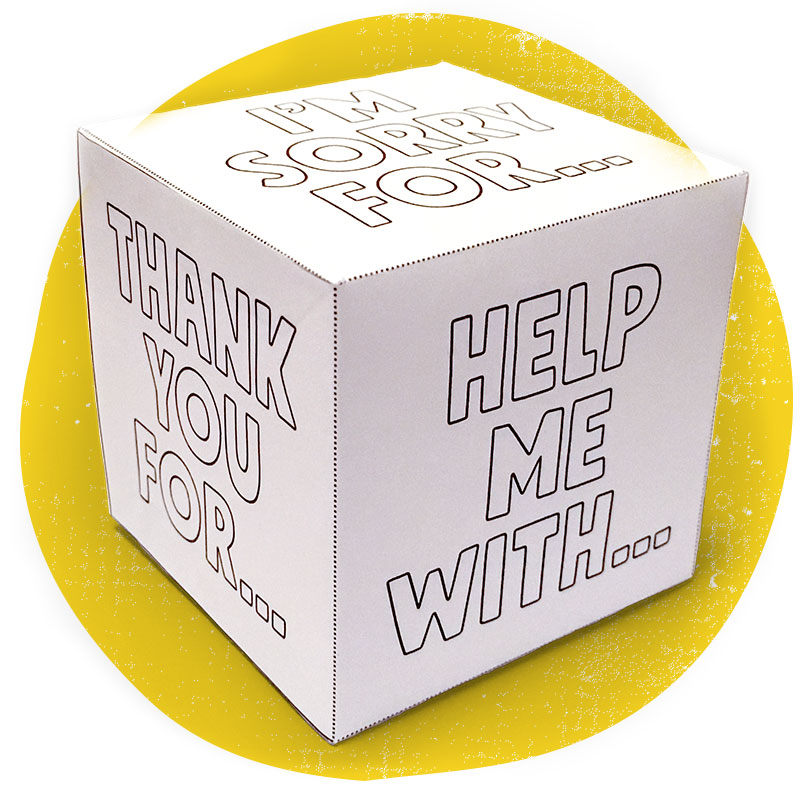 Make a prayer cube
A prayer cube can be a fun way to help you when you pray, especially at times like this when we might be worried about things or frustrated at not being able to go outside as much or see our friends. Roll the cube and use whatever it lands on to help you to pray to God. You can also take it in turns with your family. Download this sheet to use as a template and why not colour it in too?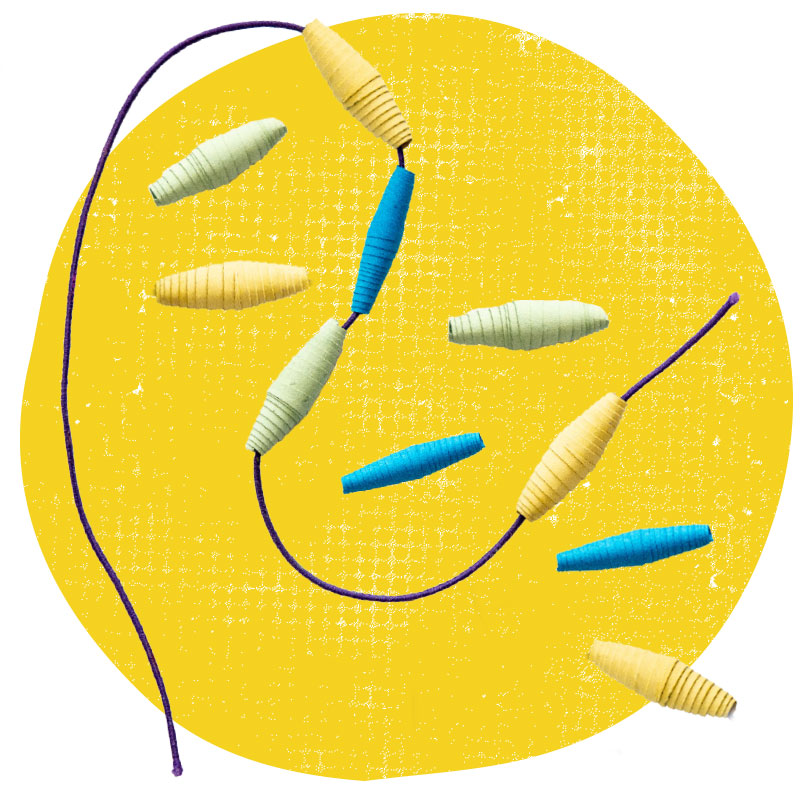 Make some paper beads
Beads are often worn in Uganda, as well as in many other African countries. They are not only worn because they look pretty, often there is special meaning behind certain jewellery and beads which are specific to each people group. Why not download these instructions to try making some of your own beads out of paper and turn them into a bracelet or a necklace?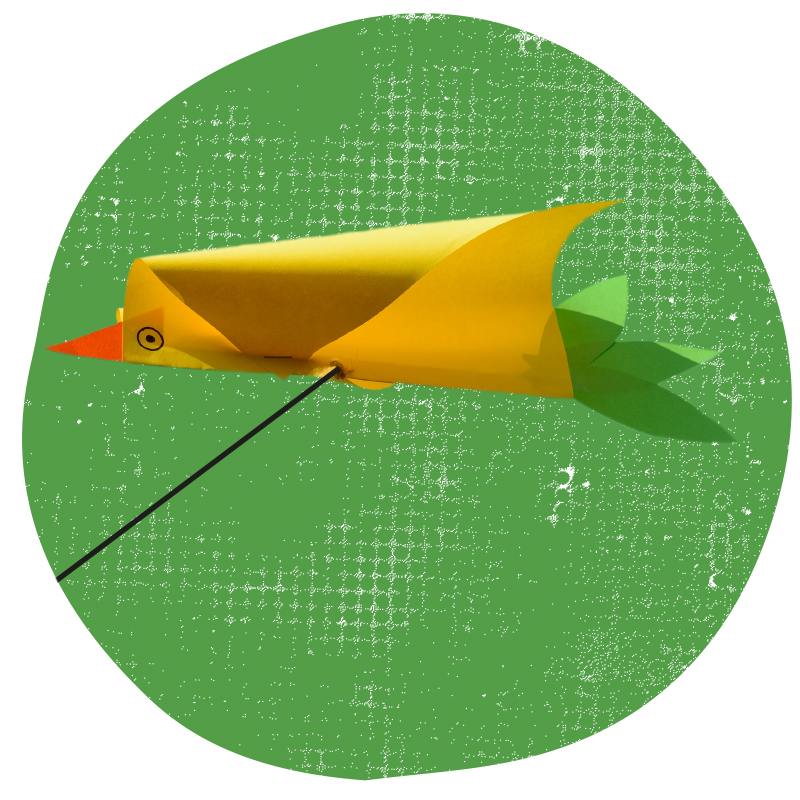 Make a bird kite
Did you know that Kenya has 1,105 species of birds, and that eight of them are only found in Kenya? Why not download these instructions to make your own bird kite and decorate it to make your own new species? It's the perfect size to fly in your garden at home!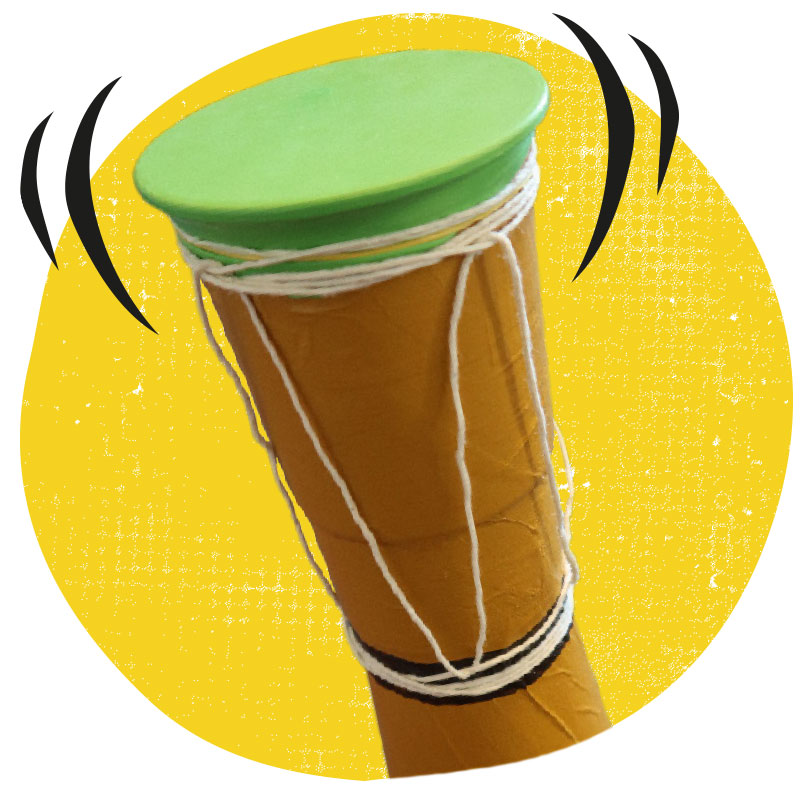 Make a Djembe African drum
Drums are one of the most important instruments in Africa.
 

For centuries, 'talking drums' were used by villages to send messages to other villages, sometimes over really long distances. Why not download these instructions and try making your own?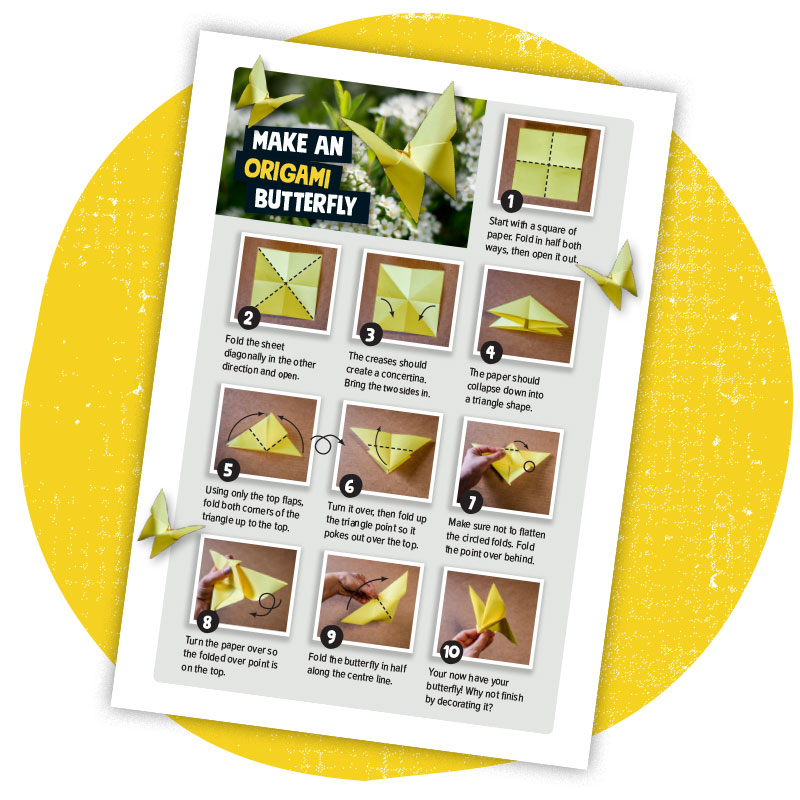 Make an origami butterfly
Did you know that butterfly wings are made up of tiny scales? Each scale is either red, yellow, black or white. Other colours are made when light reflects off the scales differently. Underneath these scales, butterfly wings are actually transparent! Why not make your own origami butterfly using these instructions, and then decorate it's wings in your own pattern?
In the kitchen…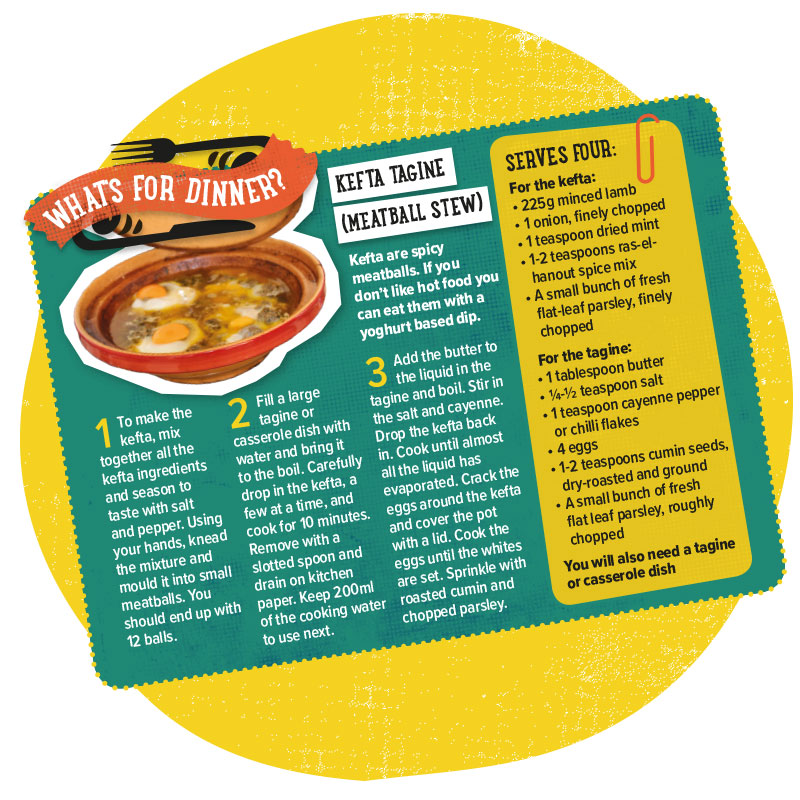 What's for dinner?
This Lamb Kefta Tagine (a spicy meatball stew with eggs) is a common dish in North Africa. Why not download the recipe and have a go at cooking it yourself? If you don't have a tagine, you can very easily cook this in a casserole dish. If you don't like spicy food, eat this with a yoghurt based dip.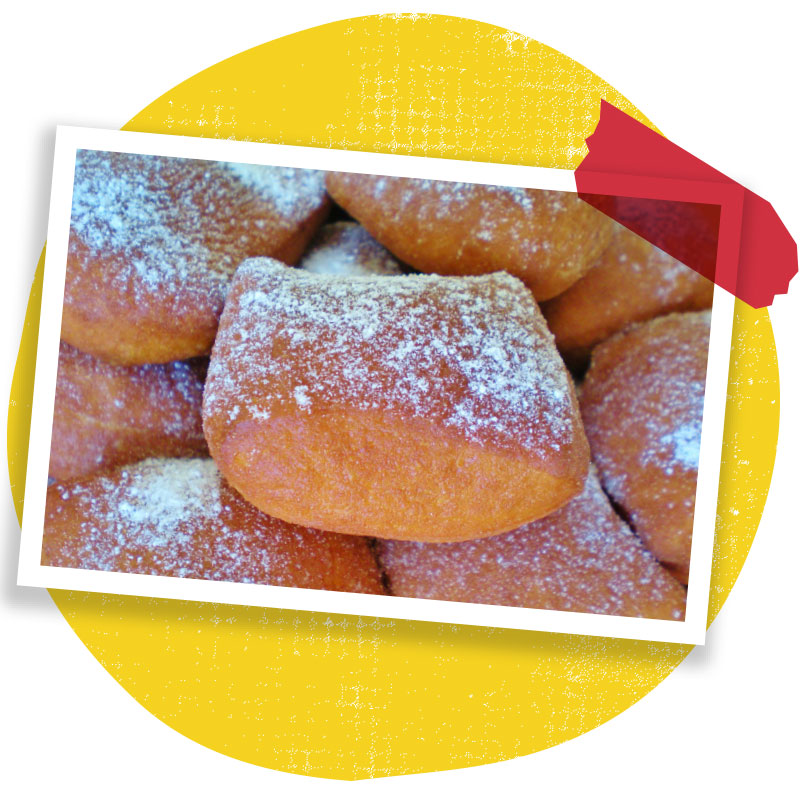 Make mandazi
Mandazi is a form of fried bread that originated on the Swahili Coast in Kenya. They are a bit like donuts and are normally eaten with tea (chai) or coffee. Why not download this sheet to get the recipe and try making them yourself? Perfect for elevenses!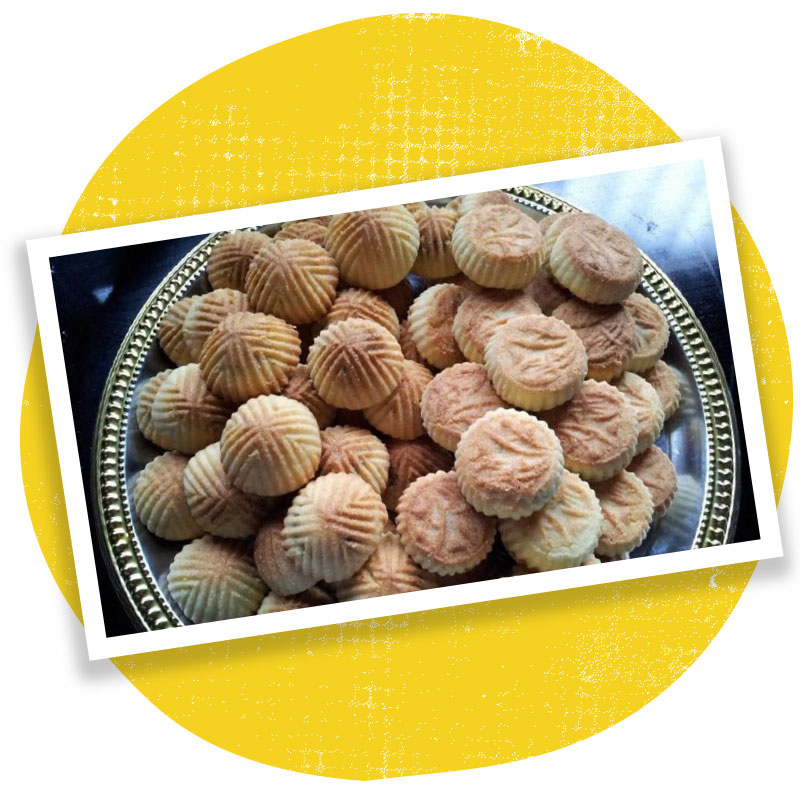 Make Sudanese Khak
These icing sugar covered cookies are baked by both Christians and Muslims in South Sudan to celebrate holidays like Easter and Eid. Each family will have their own recipe, with different fillings. Find the recipe here, and why not add some fillings of your own?